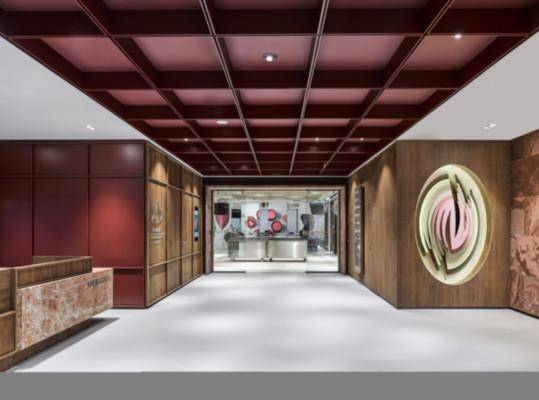 Welcome to Chocolate Academy ™ Centre, İstanbul!
Chocolate Academy İstanbul, which opened its doors in 2013 as the 16th Academy within the body of Barry Callebaut, continues to bring together all chocolate lovers at its new address in 2019.
The Academy helps all participants to discover their passion about chocolate, improve their skills and set up successful businesses with many visitors from within and outside the country.
Whether you are an amateur that has started this adventure recently or a professional that has conducted studies in the field, it is possible to find a program suited to your level with the training programs at different levels in Chocolate Academy İstanbul.
This program was prepared by taking into account the course contents that will support you at every stage of your chocolate journey and career.
We are proud to present you an opportunity to work side-by-side with inspiring chefs through "Masterclass" courses delivered by talented guest chefs coming from all over the world in addition to our basic programs.
The Academy has become a training center where everybody who wants to be involved with the chocolate world and who is already in the chocolate world can come together thanks to the training and support the Academy provided since its establishment. At Chocolate Academy Istanbul, you can learn about the basic chocolate production techniques and learn tips on how to improve your own special recipes and you can share your experiences with your team, which you will become a part of.
The participants will find an education environment which includes state of the art technology and the latest generation of equipment and they can experience new trends with veteran trainers on the basis of theoretical and practical programs. The hands-on training introduces the participants to the magical world of the chocolate, and they are given the training documents which are prepared by the experienced academical staff and include the latest techniques, applications and recipes.
We will be happy to share our knowledge which came dawn to us by Barry Callebaut more than 170 years ago and accompany you on your journey as you turn your passion for chocolate, which is the symbol for special days and memories, love and appreciation, into a new career or improve your personal work.    
If you are ready for this enjoyable journey, check out our program schedule and reserve your spot at our academy as soon as possible.
We hope to host all of you at Chocolate Academy İstanbul!
Yeşim Erol, Chocolate Academy İstanbul Head Chef
Ayşe Nur Gönençler

Chocolate
Barry Callebaut Eurasia, Nidakule Ataşehir Kuzey, Barbaros Mah. Begonya Sok. No:3 / 197 24th Floor
34647 Ataşehir – İstanbul/İstanbul
Turkey
Telephone

+ 1 312 496 7427