Trends in Sustainability plus Action Items for Cafes and Restaurants
Trends in Sustainability plus Action Items for Cafes and Restaurants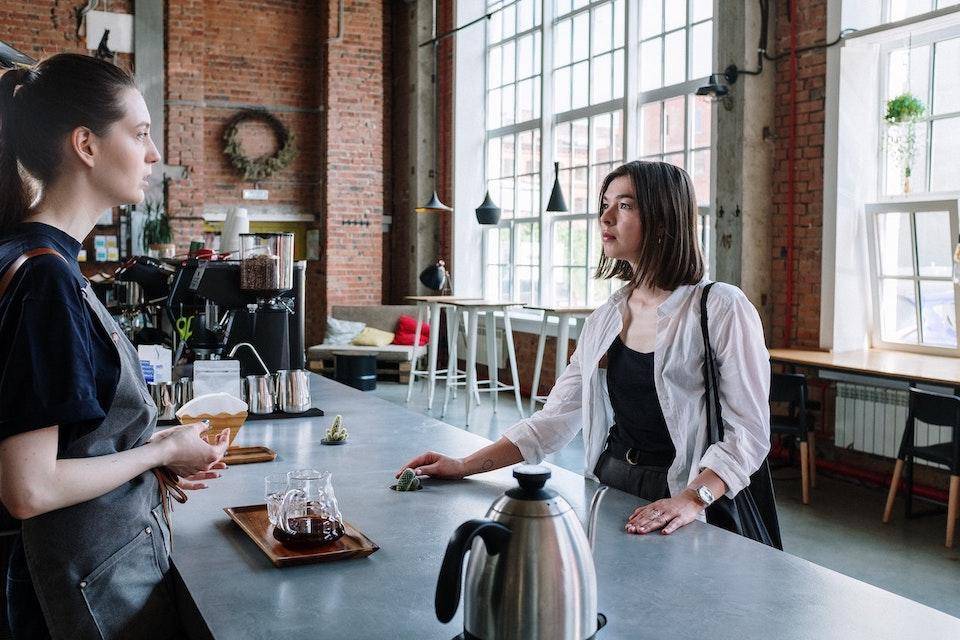 "Sustainability" has become an unavoidable buzzword today, and there's a reason for that. Your customers are concerned about the impact that their everyday food choices have on the planet and the well-being of those that grow and produce their food. According to Euromonitor, nearly 75% of consumers surveyed say, "I try to have an impact on the environment through my everyday actions." And almost ⅔ of consumers believe their food choices reflect their personal values.*

So, what's essential to your sustainability-minded customers right now?
Reducing plastics and excessive packaging
Protecting worker health
Guarding against deforestation and biodiversity loss
*Innova "Consumers Attitudes Toward Sustainability and Ethics" 2023
Plastics and excessive packaging:
Styrofoam boxes, piles of napkins, plastic forks, multiple bags and containers - all practices that will discourage today's customers from ordering from you again. In many cases, you or your employees have made these choices to provide your customers with good service, fresh food, lower menu prices, and convenience, but it's time to think outside the (styrofoam) box and explore alternative solutions. 
Euromonitor acknowledges the conflict between sustainability and convenience in their 2023 report: "Retailers must be innovative in order to provide solutions that are both sustainable and consumer-oriented."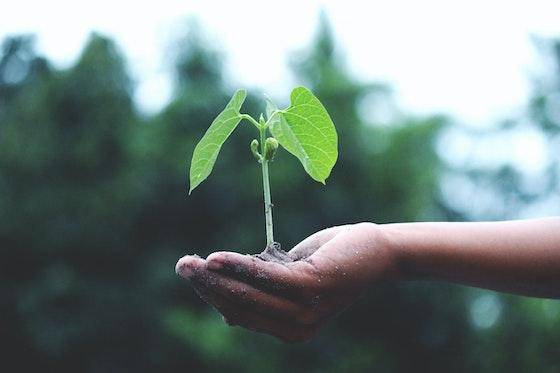 What are customers willing to give up to support their pro-planet values? To begin, more than half of consumers said they'd be willing to pay more for sustainable packaging, according to a 2022 Innova survey of consumers in 11 countries. A Foresight Factory poll from this year revealed that what consumers would most like to see is completely recyclable packaging (and clear labelling for it), a reduction in single-use plastics, and a moratorium on excessive packaging. 
They emphasize the importance of transparency and clear communication about your efforts and choices regarding packaging. If plastic containers help preserve the freshness of your items and lead to less food waste, communicate this. Offer single-use forks, spoons, or napkins only upon request, but ensure your policy is clear to avoid surprises. A simple "Will you need utensils with your takeout order?" is an easy solution.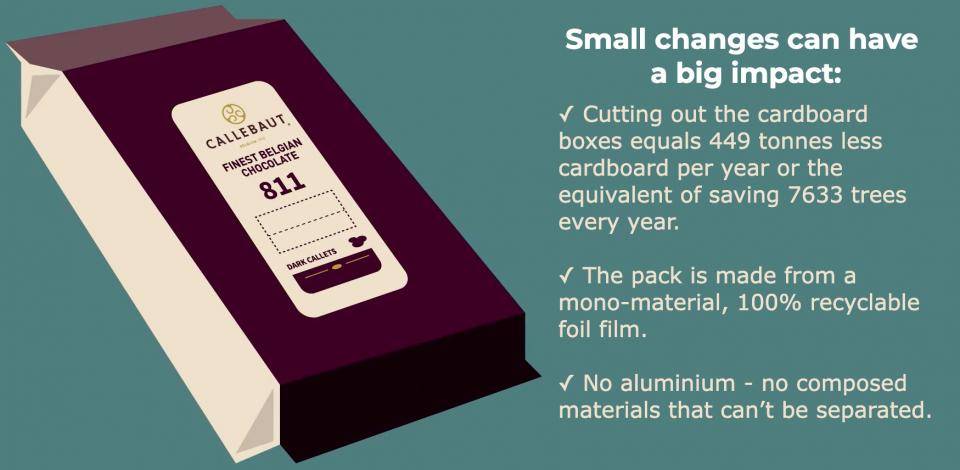 How are your vendors serving you?
Some of the most critical sustainability choices are ones your customers will never see. Ingredient packaging has impacts all along the supply chain and right up to your doorstep.
When Callebaut launched NXT Dairy-Free Chocolate, they knew that to do more for the planet, plant-based chocolate wasn't enough, so 10 kg and 2.5 kg bags of NXT come in a completely recyclable pack. Additionally,  the 10 kg packs are part of a new packaging strategy from Callebaut that eliminates cardboard boxes and uses a monomatierial PE foil that is completely recyclable while preserving the flavours and aromas of the product.

In Western Europe, you'll find many of Callebaut's best-selling products in these eco-friendly 10kg packs. Look for them in other areas soon!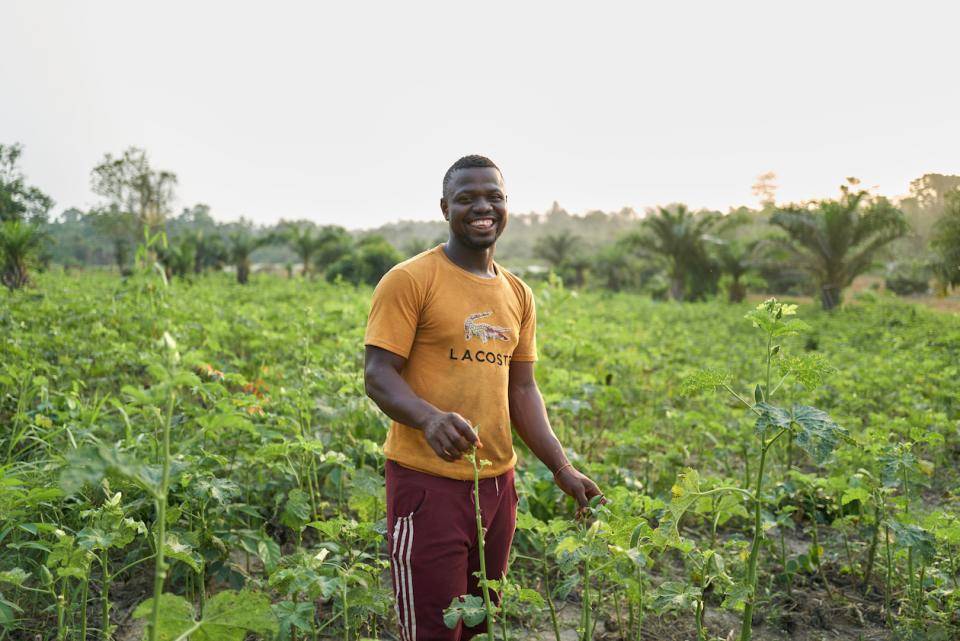 Protecting Worker Health
A recent survey about the future of sustainability predicts that consumers will begin to connect the health of the environment with their own physical and mental well-being, and they'll understand that the risks and consequences of choosing convenience over sustainability fall disproportionately on the most disadvantaged in global society.* 
Partnerships that support your community and ingredients produced in ways that protect farmers and support their families and communities align with your customers' values.
*Foresight Factory "The Future of Sustainability" 3/2023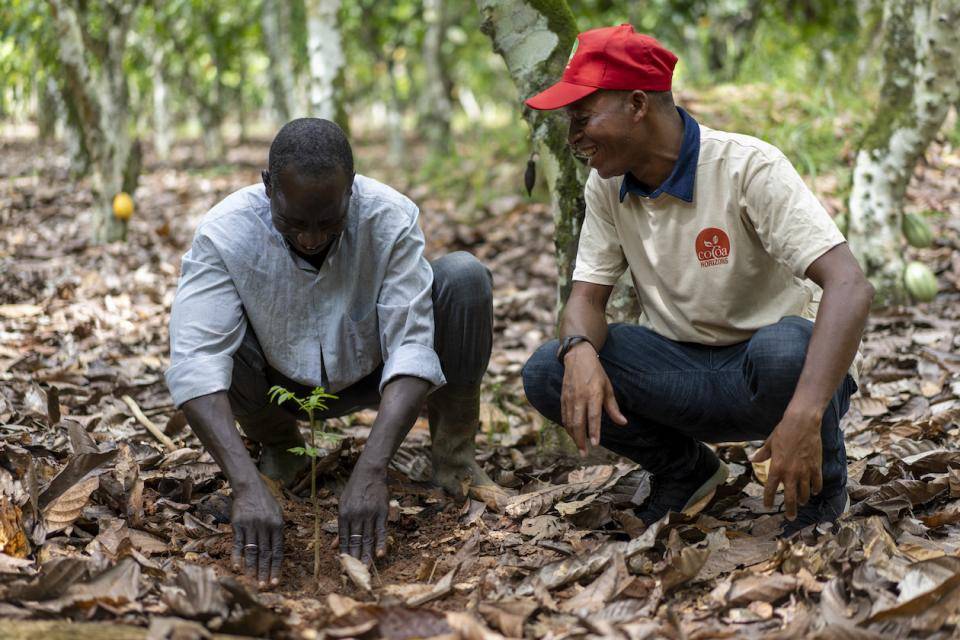 Guarding against deforestation and biodiversity loss
In a 2023 Innova survey, most consumers (57-60%) would pay more for food and beverage products devoted to solving environmental issues such as deforestation and biodiversity loss. While everyone is watching their grocery budget, and we're all looking to make our money go further, most of us are willing to spend a little more for options that support what is important to us. It's one thing for customers to say something is important to them; it can be another matter when it comes time to offer financial support. Environmental issues are where customers prioritise choices that speak to their values.
Expanding or adapting your offer to feature items which reflect your customers' desire to support environmental efforts and protect workers says that you support these ideas as well, and it can be the quality that makes your brand or shop stand out from the rest. 
Taste will always be paramount; consumers will not give up great flavours and indulgent snacks. The good news is that they don't have to! Your care and attention to detail, coupled with the broader availability of sustainable ingredients, can help create a menu where everyone benefits.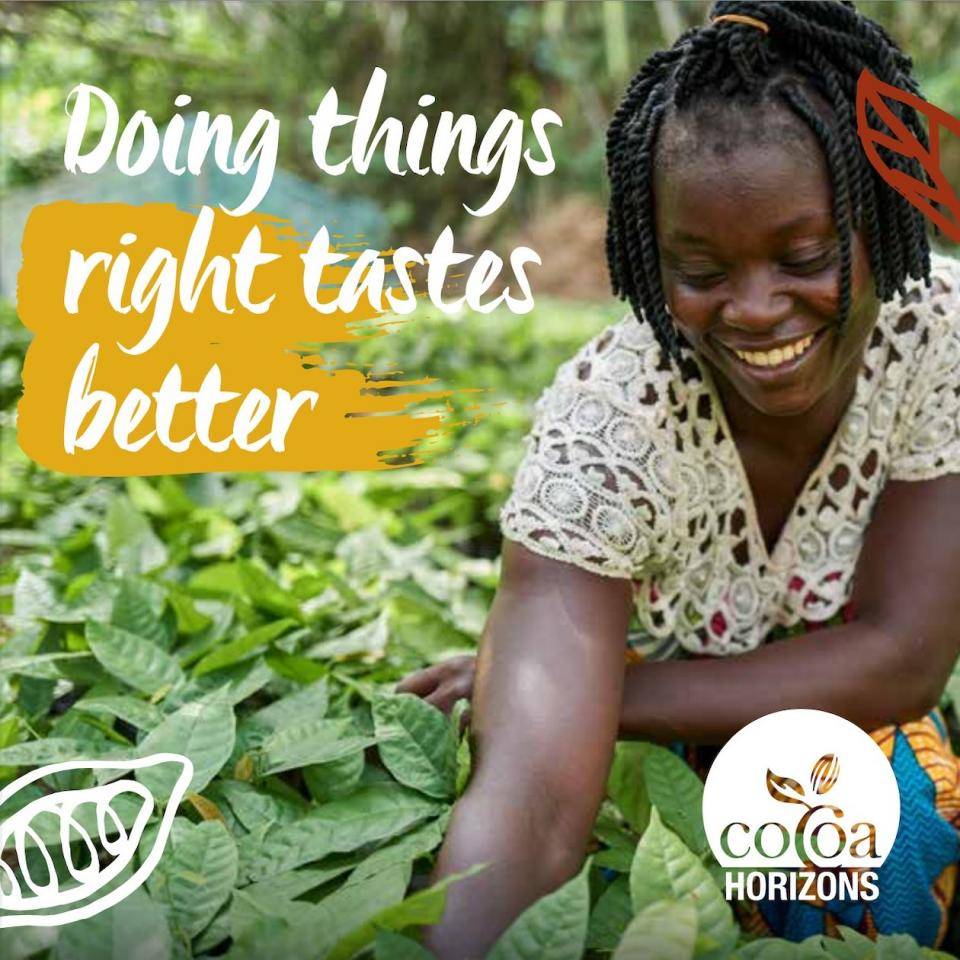 The Cocoa Horizons Mission
Cocoa Horizons has a three-tier approach to sustainable chocolate. The organization focuses on:
Productivity: Prospering Farmers
Through farmer coaching and premiums, Cocoa Horizons ensures the future of cocoa by helping farmers be more productive, ensuring that cocoa farming is a viable option for the next generation of growers
Community: Empowered Communities
Cocoa Horizons works with communities and farmer groups to ascertain needs and contribute solutions in the areas of child protection, women's empowerment and education.
Environment: Thriving Nature
With programs like agroforestry and other landscape preservation initiatives, Cocoa Horizons helps farmers increase carbon sequestration, reduce carbon emissions, and ensure deforestation-free sourcing.
Learn more about Cocoa Horizons here, and look for the logo on our Cacao Barry, Callebaut, Carma, Mona Lisa products and more!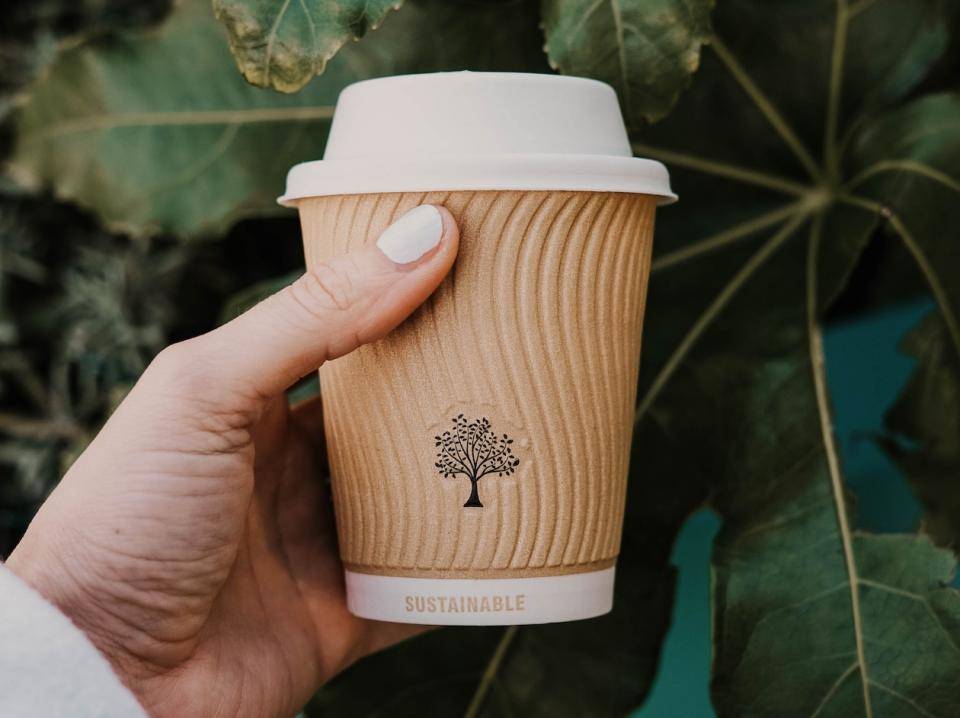 Sincere Efforts are Rewarded
How do you make sure your efforts are more than surface-deep?

Euromonitor recommends taking a systemic approach. Have a plan, create targets and know how you'll measure success. Communicate your long-term goals, and be open about your progress when talking to customers. For example: "In August, we composted 3000 kilos of food scraps like vegetable peels and reduced our electricity usage by 2%!" or "We're having trouble finding a way to recycle our glass containers. Do you have any tips?"
Avoid "greenwashing"
Today's customers are savvy enough to know when a company's actions are truly meant to have an impact and when they're simply a sales gimmick. Make sure you communicate clearly about your efforts and back up your claims. The key to success is clear communication. Be transparent about your efforts and clearly communicate your goals and challenges.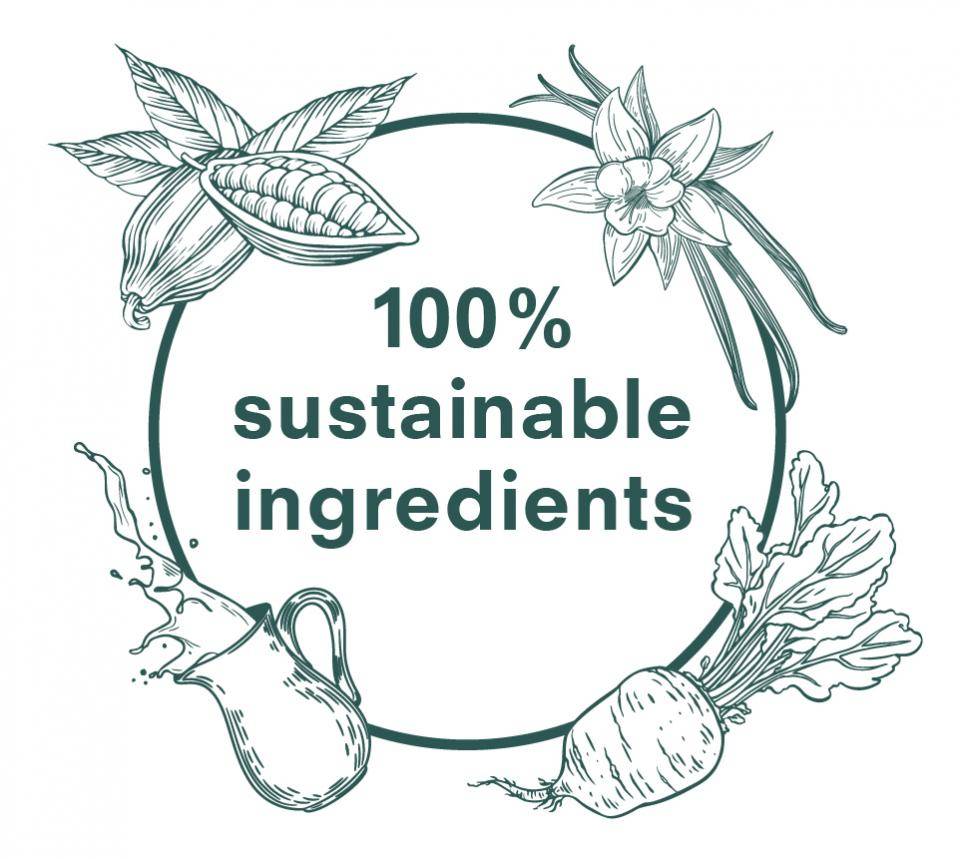 Programs and Labelling
One way to speak to your customers about your sustainability efforts is through programs and labelling. Highlight plant-based and other sustainability-minded items, and use certification logos where applicable. 
Finding ways to do business sustainably can be challenging, but your customers are right there with you. From compostable coffee cups to your brand of chocolate chips, small changes that reflect customer values and honour their concerns can have significant impacts.
Products for a Sustainable Menu