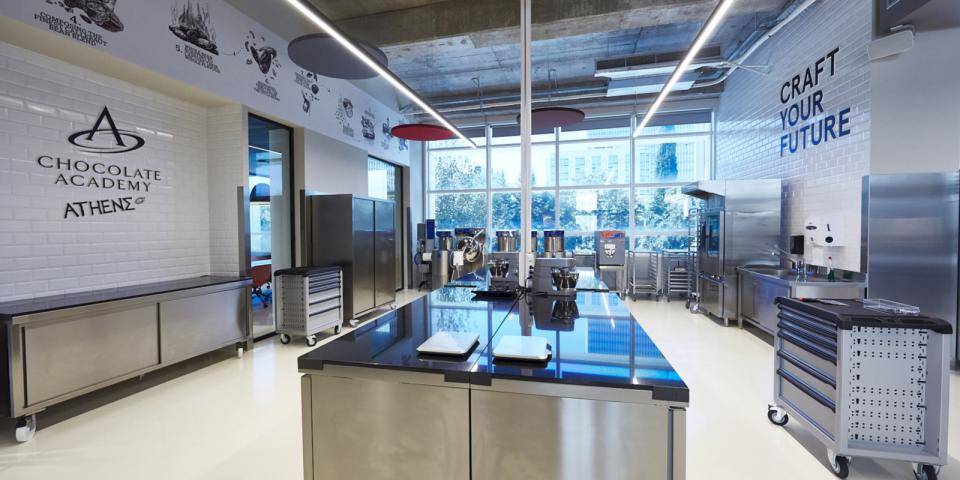 We are excited to announce that Athens Chocolate Academy™center is here! The brand new chocolate academy has now opened its doors and is ready to welcome you!
Are you passionate about chocolate in pastry, confectionery or bakery applications? So do we! If you haven't visited us yet be on the lookout and choose the course that suits you best! We have designed affordable courses that will support you in every stage of your career and chocolate journey.
In addition to our enhanced Core Curriculum, we are organizing an amazing line-up of Specialty Courses, taught by skilled internationally recognised Guest Chefs. Don't miss the chance to meet and work with high profiled chefs from all over the world coming to Athens for you! Each Guest Chef was hand selected, because of their unique talents as well as their ability to share their knowledge. Come join us to experience passionate teaching in the intimate setting of our academy.
Aren't you that confident with your professional level when working with chocolate? Whether you are a novice or an expert, the academy has courses and tools at your level to build upon your knowledge. Our courses fill quickly, which is a testament to the dedicated team at the academy which strives to make your experience exceptional. If you do find a particular class to be full, be sure to sign up for the waiting list, as we do have cancellations from time to time. 
We have established a community of chocolatiers and pastry chefs that aims to learn and elevate their talents to the next level. Witnessing our students grow, as they improve their skills as well as their businesses, is an honor and a privilege. Be part of the academy community, let's make this year to be a benchmark, get over the challenges and thrive together!
Agiou Konstantinou 50
15124 Marousi (Athens)
Greece
Telephone

+ 1 312 496 7427