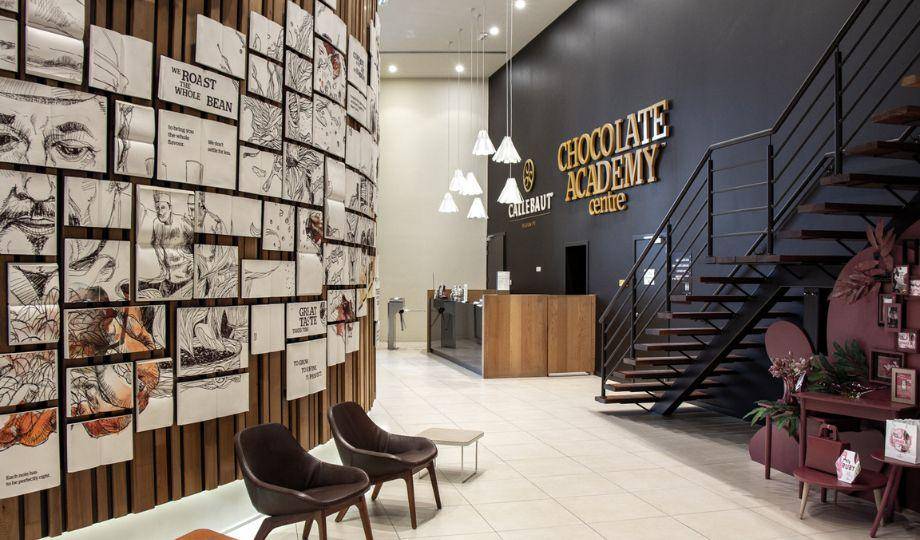 Welcome to the Chocolate Academy™ in Wieze, Belgium.
The Chocolate Academy™ in Wieze is located on the grounds of Barry Callebaut's largest chocolate factory and has been in operation since 1988. The new building of the Chocolate Academy™ was opened in 2014.
Since we opened the doors of the Chocolate Academy™, we have state-of-the-art facilities. We offer affordable courses that support you at any stage of your career or business. We also provide specialized courses taught by professional guest chefs from around the world. Each guest chef has their unique talents and skills to share knowledge. We invite you to experience this passion during one of our courses and this in a unique setting, where you will have the opportunity to work side by side with inspiring Chefs. 
Whether you are a novice or an expert, the Chocolate Academy™ has courses at your level to build on your knowledge. Our courses fill up quickly, which is a testament to the dedicated team that strives to give you a unique experience at our Chocolate Academy™.
If you find that a particular course is full, please sign up for the waiting list, as places occasionally become available. 
If you're not planning on coming to Wieze this year, be sure to follow us on our website or via our Social Media. 
We look forward to welcoming you to our Chocolate Academy™ soon!
Felicie Vinckier

Chocolate Academy Manager Benelux

Lieve Annaert

Chocolate Academy Assistant

Katherine Thiré

Chocolate Academy Assistant
Aalstersestraat 122
9280 Lebbeke-Wieze
Oost-Vlaanderen
Belgium
Telephone

+32 (0)53 730 505
TO KNOW BEFORE THE START OF THE COURSE
Indicative programme of a course
08:30h - Welcome at Chocolate Academy™ bar
09:00 - Start of course
12:00h - Lunch
13:00h - Continuation of the course
17:00h - End of course
Deviations from this daily schedule are possible depending on the course and teachers.
Lunch
Lunch and all hot and cold drinks consumed during the course are included in the price.
If you have any food intolerances or restrictions, please let us know by e-mail:
chocolate_academy_belgium@barry-callebaut.com
Transport 
Only transport is provided to Chocolate Academy™ in Wieze from the following hotels in Aalst and vice versa.
No pickup is provided at the airport or train stations (including Aalst station). No other transfer is provided.
However, you can take advantage of this shuttle service offered without hotel reservation .
The hotels are located at the following distance from the railway station of Aalst :
Station hotel : 150 metres
Keizershof hotel : 850 metres
Ibis hotel : 2.7 km
Arrangements for the shuttle service will be made 2 weeks
before the start of the course when you receive the
final invitation.
Accommodation
Keizershof Hotel (centre of Aalst)
Korte Nieuwstraat 15, 9300 Aalst
contact@keizershof-hotel .com
Station Hotel (opposite Aalst railway station)
Albert Liénartstraat 14, 9300 Aalst
info@stationhotel-aalst .com
Ibis Hotel (near motorway exit, 20 min walking distance from centre of Aalst)
Villalaan 20, 9300 Aalst
h3155@accor .com
TO KNOW DURING THE COURSE
Lockers
Behind the Library are the lockers for storing your personal belongings; left for men, right for women .
Don't forget to put the key back on the locker after the course for the next visitor .
Meals
Lunch is taken in the bar or at the Greenhouse .
Washing up
Students are asked to help with the dishes from time to time during the course.
Chef's robe
A chef's jacket can be used for the duration of the course. These are fitted at the start and used for the duration of the course.
After the course, you can leave your chef's jacket on the floor in the locker room.
Mobile shop
During the course we offer our students the opportunity to buy a chef's jacket or limited professional literature .
Payment can be made by bank card, credit card or cash
Social Network
WIFI login
You can use on the local WIFI network . Ask for a login at the start of the
course.
Welcome screens
You can publish your taken photo - related to our Chocolate Academy™ or our chocolate products on the screens at reception .
To post your photo on them, use 
#chocolateacademybenelux
Safety and hygiene rules
Please notify us in case of illness or symptoms of COVID-19 .
No glass will be taken into the course room . However, drinks can be brought in cardboard cups from the bar .
Peanuts are prohibited everywhere in the premises (i.e. no Snickers or peanut butter) .
Smoking is prohibited in the buildings and areas around the factory . Outside the Chocolate Academy™ there is a smoking shelter provided on the left when you go outside .
It is necessary to wear closed footwear (without heels) and long trousers . You may not enter the course room without a chef's coat or disposable jacket .
There are toilets on the ground floor (corridor next to the Pastry Lab) and on the first floor (past the bar and lift) - see floor plan in attached document
Photos during the course
Photos will be taken during the course and published later on our Facebook page and Instagram .
If you do not agree to this, please let us know in good time! All understanding for that .
Discount for Belgian companies
Are you taking a course at the Chocolate Academy™? Whether you opt for a chocolate, bakery, patisserie or ice cream course, Alimento offers a discount on your registration:
From €65 for a half-day to €130 for a full day .
For whom?
All Belgian bakers, pastry chefs or chocolatiers who fall under Joint Committee 118 or 220 and have fewer than 100 employees . This discount also applies to the business manager if he/she participates together with the employee(s) . The same applies to technical education teachers teaching bakery, pastry or chocolate courses .
When do you receive this discount?
You first pay the full amount to Chocolate Academy™ . When the course is over, we will notify Alimento of your attendance . They will refund part of the total price.
What steps do I need to take?
Simply enter your national registration number, joint committee and NSSO number on the registration page and notify via:
chocolate_academy_belgium@barry-callebaut.com