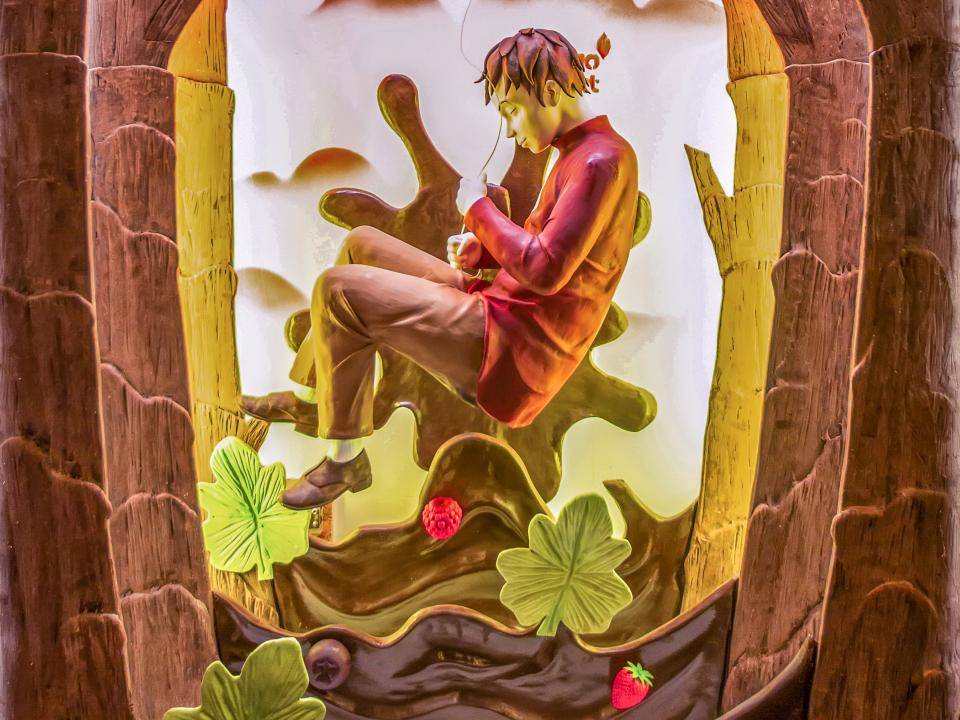 Location:

Date:

24 Jan 2024 - 26 Jan 2024

Primary course language:

Greek
Πάρτε μέρος σε μια αξέχαστη εμπειρία στο Workshop Γλυπτικής Σοκολάτας υπό την καθοδήγηση του Νικόλα Νικολακόπουλου - Chocolate Academy™ Ambassador στην Ελλάδα και έναν από τους τρεις κορυφαίους φιναλίστ του διαγωνισμού World Chocolate Masters 2022.

Απελευθερώστε τη δημιουργικότητά σας και μάθετε τα μυστικά για την κατασκευή του δικού σας γλυπτού από σοκολάτα. Αυτό το εργαστήριο είναι ένας θησαυρός καινοτόμων τεχνικών, με ποικιλία υφών, χρωμάτων και 3D διατάξεων στον χώρο.

Μην χάσετε αυτήν τη μοναδική ευκαιρία να εξερευνήσετε τον γοητευτικό κόσμο της γλυπτικής σοκολάτας.
Κάντε κράτηση τώρα για να εξασφαλίσετε τη θέση σας!
---
Join us for an unforgettable experience at our Chocolate Sculpting Workshop, led by Nicolas Nikolakopoulos - Chocolate Academy™ Ambassador in Greece and Top 3 finalists of the World Chocolate Masters 2022 competition.

Unleash your creativity and learn the secrets of crafting your very own chocolate Chocolate showpiece. This workshop is a treasure trove of innovative techniques, with a multitude of textures, colours, and 3D space arrangements.

Don't miss out on this unique opportunity to delve into the fascinating world of chocolate creation.
Reserve your spot today!
Άφιξη 8:30,
Διάρκεια Σεμιναρίου 09:00-13:00 & 14:00-17:00,
Διάλειμμα 13:00-14:00, παρέχεται γεύμα*
*Για τυχόν διατροφικούς περιορισμούς, παρακαλούμε να μας ενημερώσετε μία εβδομάδα πριν από το μάθημα
Το κόστος του σεμιναρίου περιλαμβάνει:
Τετράδιο Chocolate Academy™
Ποδιά
Συνταγολόγιο
Γεύμα
Πιστοποιητικό συμμετοχής Chocolate Academy™
Η συμμετοχή σας επιβεβαιώνεται εφόσον έχετε προχωρήσει στην πληρωμή του μαθήματος. Μην ξεχνάτε να έχετε μαζί σας το σακάκι σεφ.
Σας περιμένουμε!
---
Welcome coffee 8:30
Workshop hours:09:00-13:00 & 14:00-17:00 ,
Lunch break 13:00-14:00 Lunch is provided*


*Should you have any food restrictions, please inform us at least a week before the course.
Fee includes:
Notebook
Course recipe booklet
Chocolate Academy™ Apron
Chocolate Academy™ certificate
Lunch
For your place to be confirmed on a course you must make full payment. You must bring your own Chef Jacket.
We are looking forward seeing you !
Create Your Account Today
Unlock free unlimited access to professional recipes, techniques and many more practical resources to sharpen your skills and grow your business.