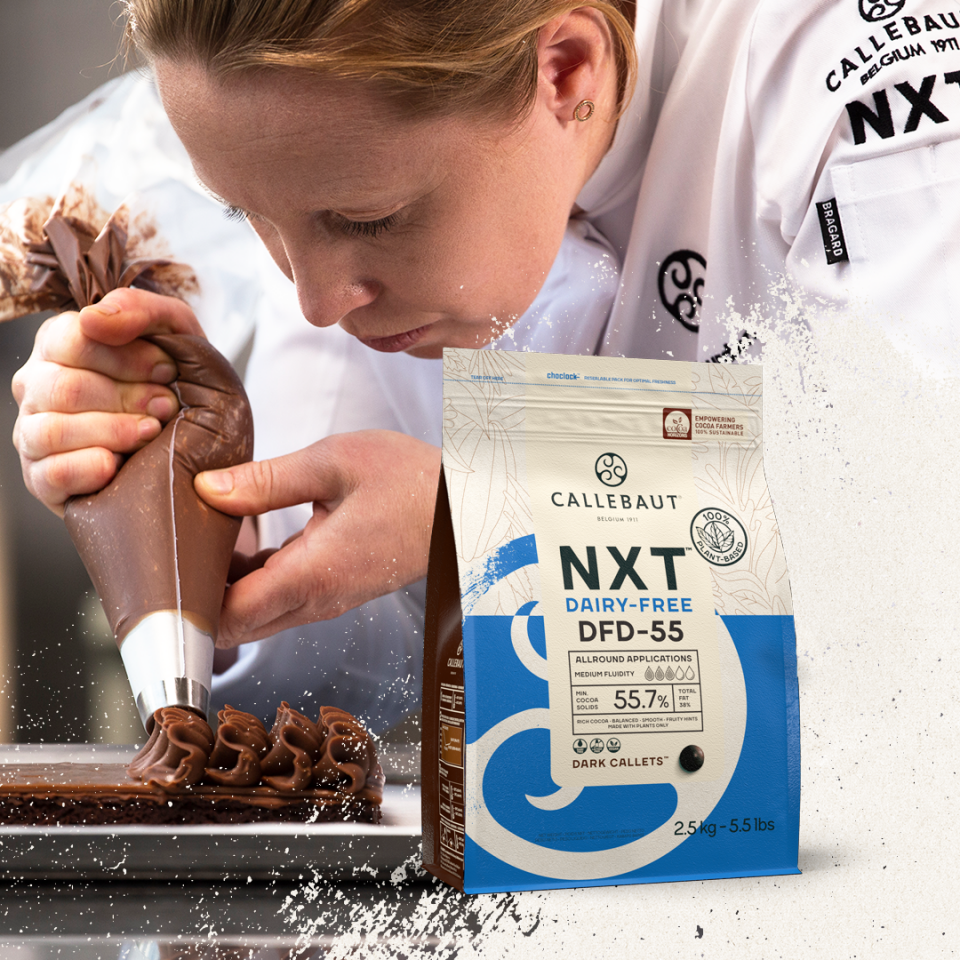 Location:

Date:

13 Jun 2023 - 15 Jun 2023

Primary course language:

English
Vegan ist die Zukunft - aber auch die Gegenwart. Aus gesundheitlichen Gründen aber auch aus nachhaltigen Gründen wählen mehr und mehr Konsumenten eine vegane Ernährungsweise. Denn der Verzicht auf tierische Produkte führt zu einer Verringerung unseres CO2-Fußabdrucks.
Doch wie setzt du das in deiner Konditorei um?

Als Beraterin für die Pâtisserie kennt sich unsere Dozentin Marike van Beurden bestens aus, wenn es um vegane Alternativen für Bäckerei & Konditorei geht. Welche pflanzlichen Ersatzprodukte kann Marike empfehlen? Und wie gelingt dir ihre Verwendung?
Neben dem Ersatz für herkömmliche Milchprodukte gibt es endlich auch eine cremige Alternative für alle (Milch-) Schokoladen-Fans: die Callebaut NXT M_lk!
Marike zeigt dir, wie du sie optimal für deine Kreationen einsetzt.

Egal ob Torte oder Törtchen, in diesem Kurs entdeckst du die vielfältigen Möglichkeiten von veganer Pâtisserie ohne Verzicht auf Genuss!
Es handelt sich hier um ein Seminar mit Fachdemonstrationen sowie praktischen Anteilen.
Unser Kurspreis versteht sich inklusive Mittagessen & Getränke.
Unterstützung bei der Übersetzung (von Englisch auf Deutsch) wird angeboten durch unsere deutschen Academy DozentInnen.
- Auswirkungen veganer Ernährung
- Kennenlernen pflanzlicher Alternativen für tierische Produkte
- Ausblick der Marktentwicklung für vegane Produkte
- Herstellung veganer Torten & Törtchen inklusive Dekoration
- Vorstellung & Verwendungstipps der milchfreien Callebaut NXT M_lk und Dark
Arrival, parking and the way to the Chocolate Academy Center
The Chocolate Academy Center has the following address:
Chocolate Academy Center
Barry Callebaut Germany GmbH
Im Mediapark 8a
50670 Cologne
3rd floor
This means that the Center is centrally located in Cologne's city centre and has excellent transport connections. The 154 m high KölnTurm will guide you to the Chocolate AcademyTM Center from afar.
By public transport:
If you are travelling by public transport, use the following stops: Hansaring, Hauptbahnhof, Hans-Böckler-Platz/Bahnhof West or the Christophstrasse/Mediapark stop.
From these stops you can reach the Chocolate Academy Center by a short walk.
By car:
Please enter the following address in your navigation system:
Am Klümpchenshof 2, 50670 Cologne.
And then turn into the underground car park from Maybachstraße.
Parking:
There is an underground car park (PZ) under our Academy, where up to 2,500 public parking spaces are available. You can enter via the street: Am Kümpchenshof or, if you are coming from the A57 or via Innere Kanalstraße, on Erftstraße directly behind the railway subway. Just follow the signs to PZ (Parkhaus Zentral).
You can find more information at:
www.apcoa.de/parken-in/koeln/mediapark.html
Once you have parked in the underground car park, you can easily use the staircases leading to the central forecourt. You can reach the entrance to building 8a via the forecourt.
Create Your Account Today
Unlock free unlimited access to professional recipes, techniques and many more practical resources to sharpen your skills and grow your business.