Location:

Date:

22 Nov 2023 - 23 Nov 2023

Primary course language:

English

Secondary course language:

Polish

Segment:

Chocolate shop

Bakery/Pastry Shop
Na tym kursie będziesz mógł odkryć interesujący świat czekolady, zarówno w zastosowaniach cukierniczych, jak i konfekcyjnych z rąk Szefa - Francisco Moreiry.
Jeśli nie możesz się doczekać podniesienia poprzeczki w zakresie technik lub jeśli chcesz zobaczyć różne kombinacje smakowe w najróżniejszych aplikacjach z pięknymi detalami wykończeniowymi, zapraszamy do zapisania się na to szkolenie. 
Szef Francisco Moreira podczas szkolenia zaprezentuje tort, którego receptura dostępna jest w najnowszym wydaniu magazynu So good..
Część techniczna kursu obejmuje:
Różne zastosowania - Tarty, torty, praliny, batony 
Różne tekstury stosowane w ciastach i wyrobach cukierniczych
Wegańskie przepisy i składniki
Różne rodzaje ganaszy i nadzień do pralin
Techniki glazurowania i wykańczania
Różne techniki zamszowania
Cukiernictwo:
Tarta waniliowa z białą czekoladą
Tort z czekoladą mleczną Alunga 41%, orzechami i przyprawami
Tort z ciemną czekoladą Fleur de Cao 70%, malinami i różą
Ciastko na wynos z czekoladą i orzechami
Tort wegański z kokosem i czekoladą NXT milk
Konfekcja:
Pralina - Ciemna czekolada Santo Domingo 70%, earl grey, macadamia
Pralina - Ciemna czekolada Alto el Sol 65%, ser black lemon
Baton - Kokos, matcha, pistacja
Baton - Czekolada karmelowa, morele, miso
Baton - Orzechy pekan, czekolada NXT milk
WE PROVIDE:
- A fully equipped workspace
- An apron, which participants take with them at the end of the training
- Recipes to be used as materials during the course
- A wide range of products to be used during the training
- Lunch and all-day access to coffee/tea
- Training completion certificate
- Training organised from 9 a.m. to 4 p.m.
- If the minimum number of participants does not meet, the course may be cancelled
- The prices quoted are net prices (23%)
- Clients can be company owners as well as private persons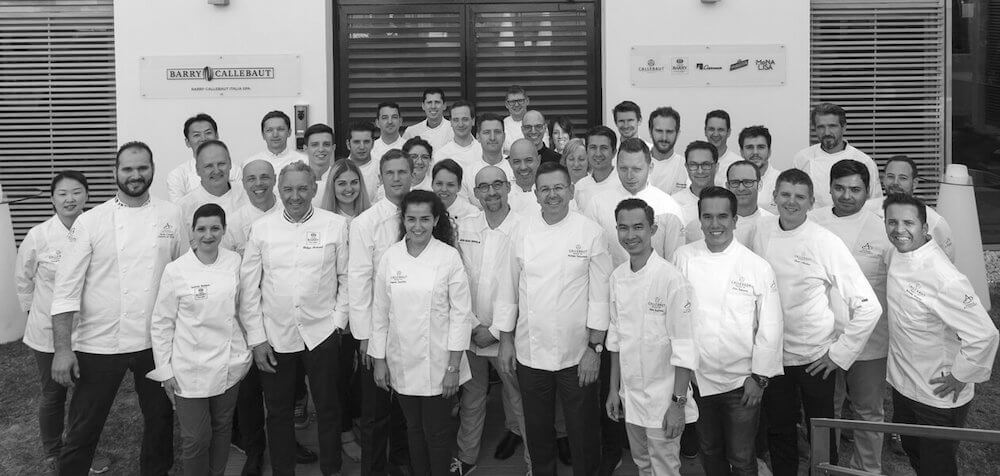 Create Your Account Today
Unlock free unlimited access to professional recipes, techniques and many more practical resources to sharpen your skills and grow your business.