For a successful and attractive Summer menu
Summer is out there !
After the particular times we were in, we can only imagine how relieved and eager you might be to welcome guests again.
Our chefs Dries Delanghe and Francisco Moreira from Chocolate Academy came up with 12 recipe inspirations to ensure an attractive and trendy Summer menu. From ice creams to plated desserts and refreshing beverages, discover our revisited versions of the most successful and iconic desserts, inspired by the trendiest ingredients of the moment. Stay on top of the hit!
After more than a year of privation, let your customers' stomach speak. Go summer vibes!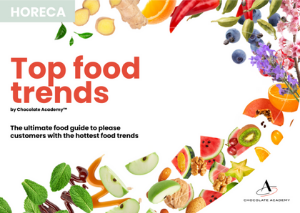 What's more?
We've also analysed the most relevant Food Trends of the moment to make sure these recipes were super attractive and super trendy. Learn more on the key ingredients to play with in our Chocolate Academy Food™Trends Report.
Fill out the form below to claim your recipes!