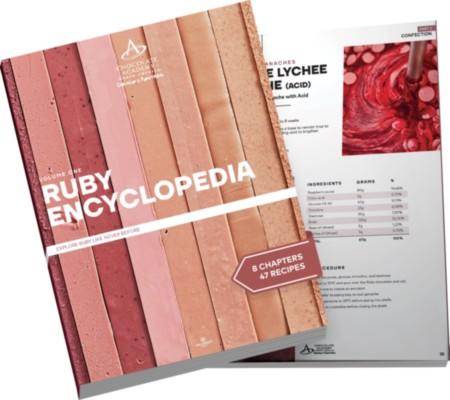 Explore Ruby Like Never Before
With Ruby chocolate, Callebaut® changed the face of the industry by introducing a 4th type of chocolate.
Today, the Chocolate Academy™ North America chef team invites you to dive even deeper into the possibilities offered by this chocolate with the Ruby Encyclopedia. Built like a handbook, it showcases unlimited combinations of flavors, textures and colors, allowing chefs to explore a new palette of applications never seen before. Download Volume I and explore 47 innovative new recipes!
Ruby Encyclopedia | Volume I
What's Inside?
What is Ruby Chocolate?
Which flavors work best with Ruby Chocolate?
Tips & Tricks on how to work with Ruby
Confection Basics & Recipes
Pastry / Bakery Basics & Recipes
and more!