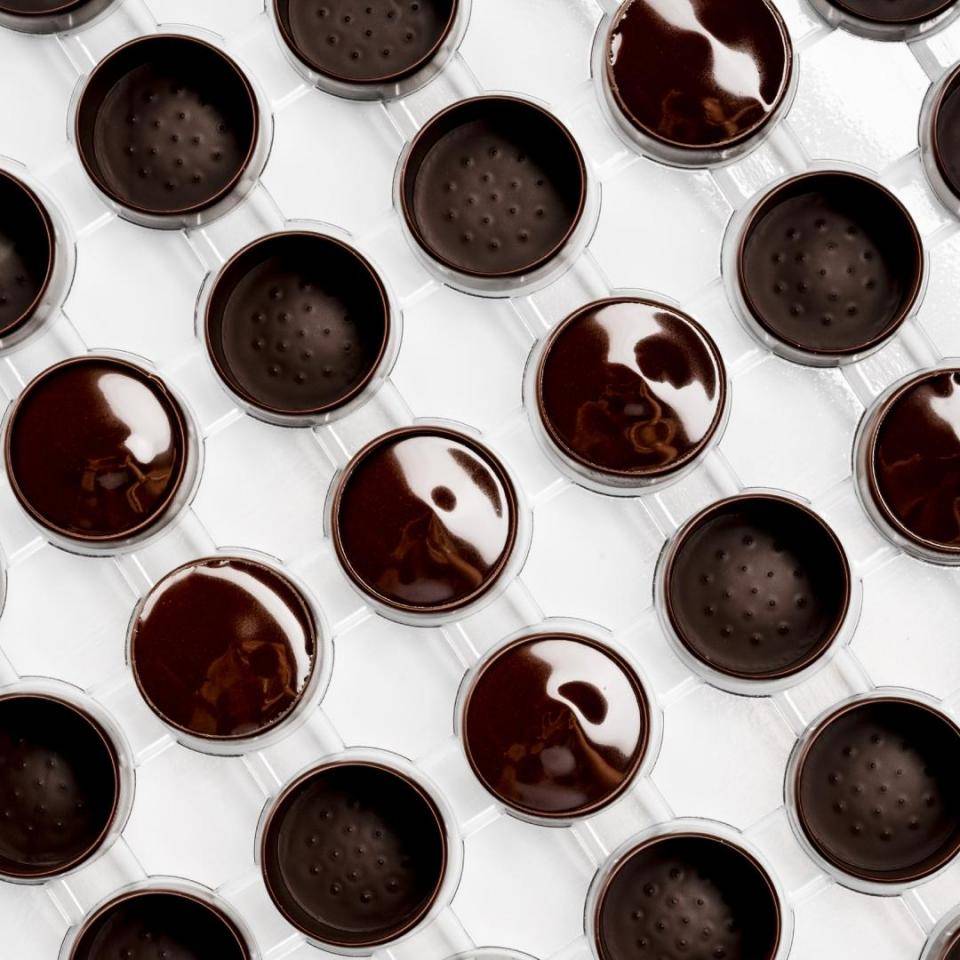 Location:

Date:

30 Jan 2023 - 01 Feb 2023

Primary course language:

French

Segment:

Confectionery

Bakery & Pastry

Horeca
Apprenez les bases de la chocolaterie
Si vous cherchez à acquérir les compétences professionnelles du travail du chocolat, telles que la cristallisation, le moulage et le trempage ? Alors ce cours est fait pour vous !
C'est un cours pratique qui aidera à :
- Maîtriser les techniques de cristallisation
- Techniques de trempage et de moulage
- Obturation des moules - Initiation à la ganache et à l'émulsion
- Solutions aux problèmes les plus fréquents
- Le rituel de dégustation.
Passez trois jours à perfectionner les bases du travail du chocolat et à acquérir une solide connaissance du chocolat afin d'être autonome et démarrer votre propre production. Vous réaliserez truffes, tablettes, bonbons moulés et trempés, rochers etc...
Ce cours est destiné aux personnes ayant un objectif professionnel (Ex: déjà employé en pâtisserie, chocolaterie, R&D etc... ou désirant démarrer une entreprise de chocolaterie).  Il n'est pas destiné aux amateurs.
Note: This course is also available in English on Feb 21st-22nd - 23rd 2023.
Be in the know!
Click to download our practical information booklet →
General Class Information
Class size is from 8 to 12 people.
The class is from 8:30 am to 5:00 pm- You will receive an email confirmation prior to the course date.
Light Breakfast, Lunch & apron will be provided.
You must attend the full course in order to receive your certificate.
Tuition Fees Include
Course Recipe Booklet
Light breakfast & Lunch (should you have any allergies or food restrictions, please advise us)
Apron & kitchen tools
Upon registration, you will receive an email regarding course details to ensure you have enrolled in the correct Master Class based on your level of chocolate (or pastry) knowledge.
In the event of a cancellation by the Academy, we will refund only the amount of the course but, not the travel or the accommodation (see below the cancellation policy).
DRESS CODE
The CHOCOLATE ACADEMY™ center will provide an apron and hair net.
You must bring your own chef coat. Pants (jeans or solid color wear).
Socks and closed shoes are required to enter the kitchen lab.
CANCELLATION POLICY
Cancel less than 15 days and you will not receive a credit or any form of refund.
Cancel between 15-45 days and you will receive a credit voucher of 50% towards a future class.
Cancel before 45 days and you will receive a full credit voucher of 100% towards a future class.
TRANSPORTATION
Airport: Montreal-Trudeau
Parking: There is a free parking lot behind the building. We have a special lot for electric cars..