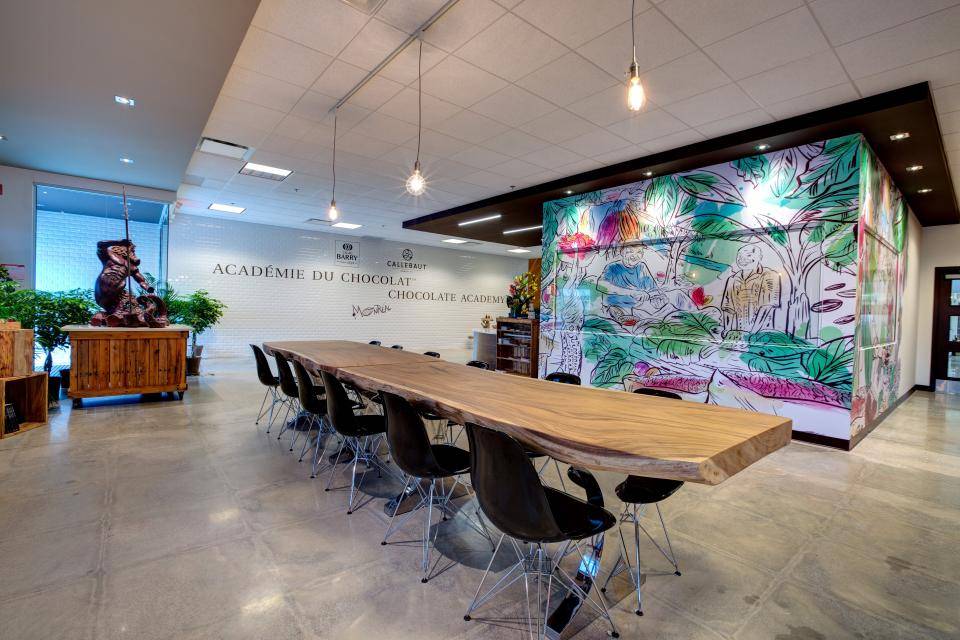 Welcome to the Montreal Chocolate Academy ™ Center!
Our team is more than ever dedicated to supporting every chef and chocolate lover. Since we opened the doors of the Chocolate Academy™, we empower chocolate artisans, pastry chefs, confectioners, and bakers with solutions to improve their skills in chocolate and master new techniques and trends Whether you are a novice or an expert, the Chocolate Academy™ has courses at your level to build on your knowledge. 
We look forward to welcoming you to our Chocolate Academy™ soon!
Laurence Torcherie

Academy Project Coordinator since 2013
4850 Molson
Montreal QC H1Y 3J8
Canada
Telephone

+1 (855) 619 8676
Be in the know! 
Click to download our practical information booklet →
General Class Information
Class size: 8 to 12 people
Class time: 8:30 am to 5:00 pm.  You will receive an email confirmation prior to the course date.
Light breakfast, lunch & apron will be provided
You must attend the full course in order to receive your certificate
Tuition Fees Include: 
Course Recipe Booklet 
Light breakfast & lunch (should you have any allergies or food restrictions, please advise us) 
Apron & kitchen tools 
Upon registration, you will receive an email regarding course details to ensure you have enrolled in the correct Masterclass based on your level of chocolate (or pastry) knowledge. 
In the event of a cancellation by the Academy, we will refund only the amount of the course but, not the travel or the accommodation (see below the cancellation policy).
DRESS CODE
The CHOCOLATE ACADEMY™ center will provide an apron and hair net.
You must bring your own chef coat.
Pants (jeans or solid color wear).
Socks and closed shoes are required to enter the kitchen lab. 
CANCELLATION POLICY
Cancel less than 15 days and you will not receive a credit or any form of refund.
Cancel between 15-45 days and you will receive a credit voucher of 50% towards a future class.
Cancel before 45 days and you will receive a full credit voucher of 100% towards a future class.
TRANSPORTATION
Airport: Montreal-Trudeau
Parking: There is a free parking lot behind the building. We have a special lot for electric cars..