Global Chefs Seminar 2022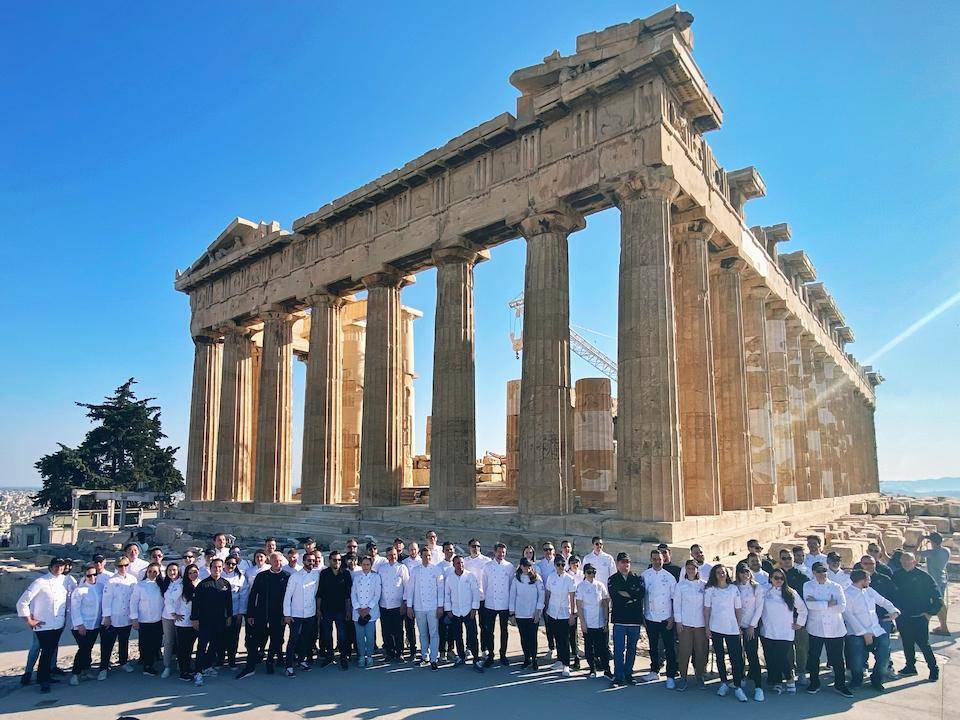 After a multi-year hiatus, the Chocolate Academy™ Global Chefs Seminar took place this year in Athens, Greece. The Chocolate Academy™ Center in Athens hosted over 70 chefs from around the world as they gathered to discuss the future of chocolate and pastry.

With the concept of "Philo.Chef", this year's Global Chef Seminar took our chefs back to the roots of Greek philosophy. The history, art, and culture of Athens provided the perfect backdrop for our modern-day chef-philosophers as they explored topics such as creativity, innovation, and sustainability. 
Highlights from the 2022 Chef Seminar in Athens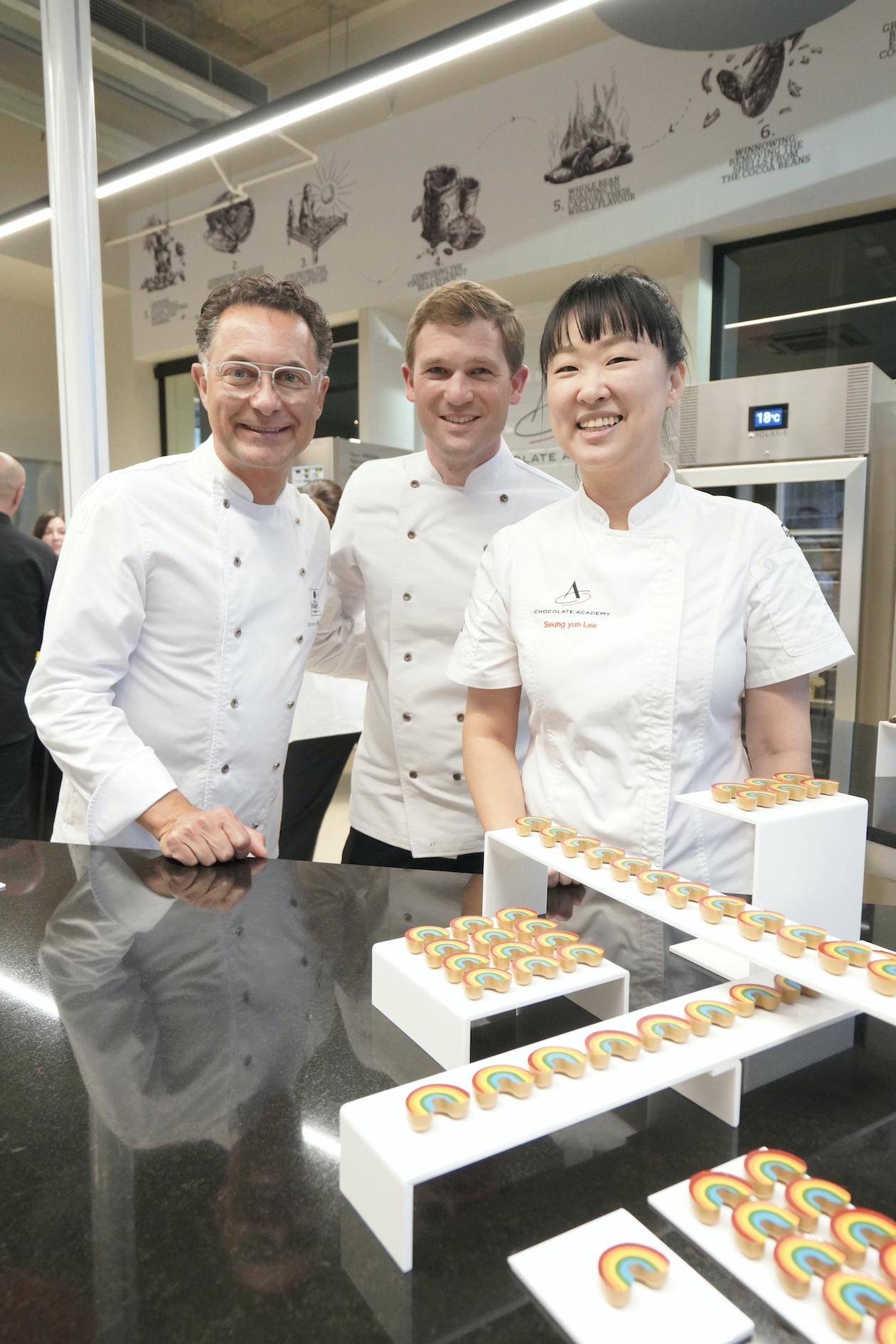 Opening Night
The week began with an opening-night event where journalists and professionals had the opportunity to taste a global array of chocolate trends and flavors. Nine Chocolate Academy™ Center Chefs and two Chocolate Ambassadors presented their own unique and on-trend bonbons and pastries inspired by their own heritage and local flavors and ingredients.
Chef SeungYun Lee's Coconut & Pandan Bonbons
Our Chocolate Academy™ Chef from Southeast Asia created a cheerful rainbow bonbon to match her open and inspiring personality. With flavors typical of her home region, her coconut and pandan leaf creation was a delicious exploration of traditional flavors not often seen outside the region.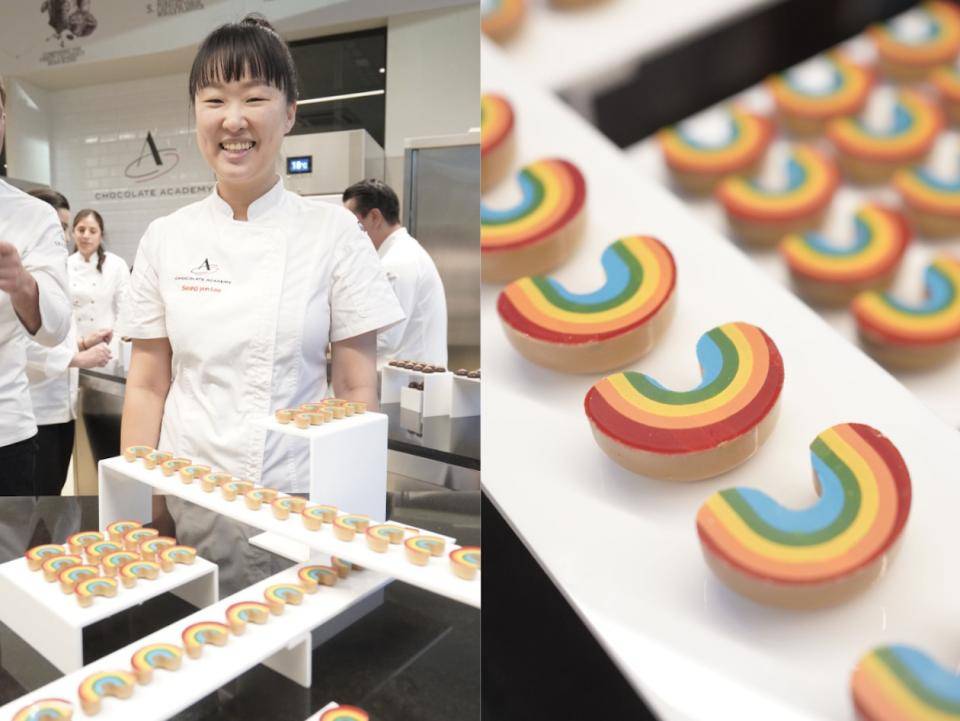 Chef Martin Diez's Volcano Bonbons
Chef Martin Diez of the Chocolate Academy™ Center in Chicago shared his Volcano Bonbon, a tour of North American flavors featuring California almonds, a Mexico ganache, and a Kentucky Bourbon filling.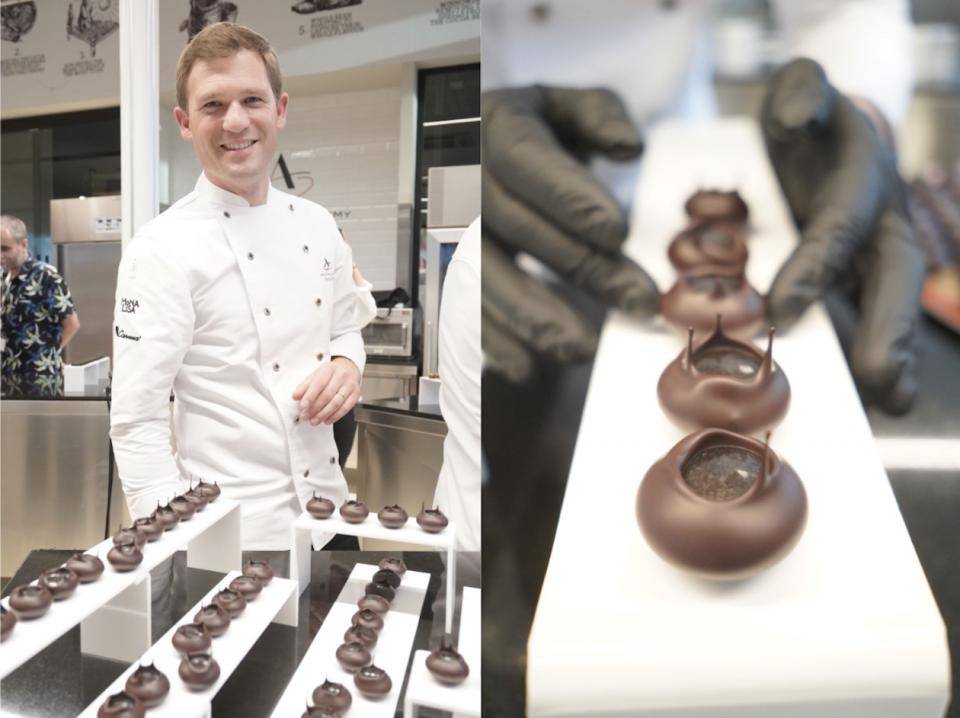 Chef Ramon Morato's Evocao, Grapefruit, and Rose Bonbons
Chef Ramon's bonbons featured the award-winning, upcycled chocolate from Cacao Barry®, Evocao WholeFruit Chocolate. His creation paired the fruity notes of Evocao with Grapefruit and Rose.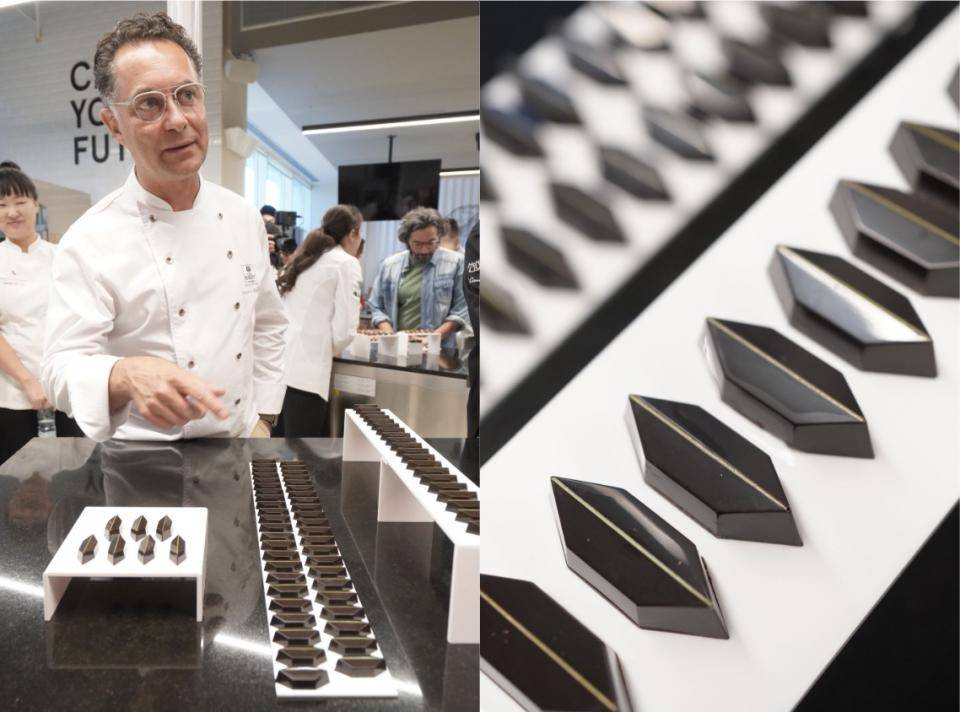 Chef Domenica Lazo's Vegan Dulce de Leche Bonbons
Chef Domenica Lazo confessed to continuing to crave dulce de leche for years after switching to a plant-based diet. She created these vegan bonbons using a coconut milk-based dulce de leche and an Ecuadorian coffee ganache.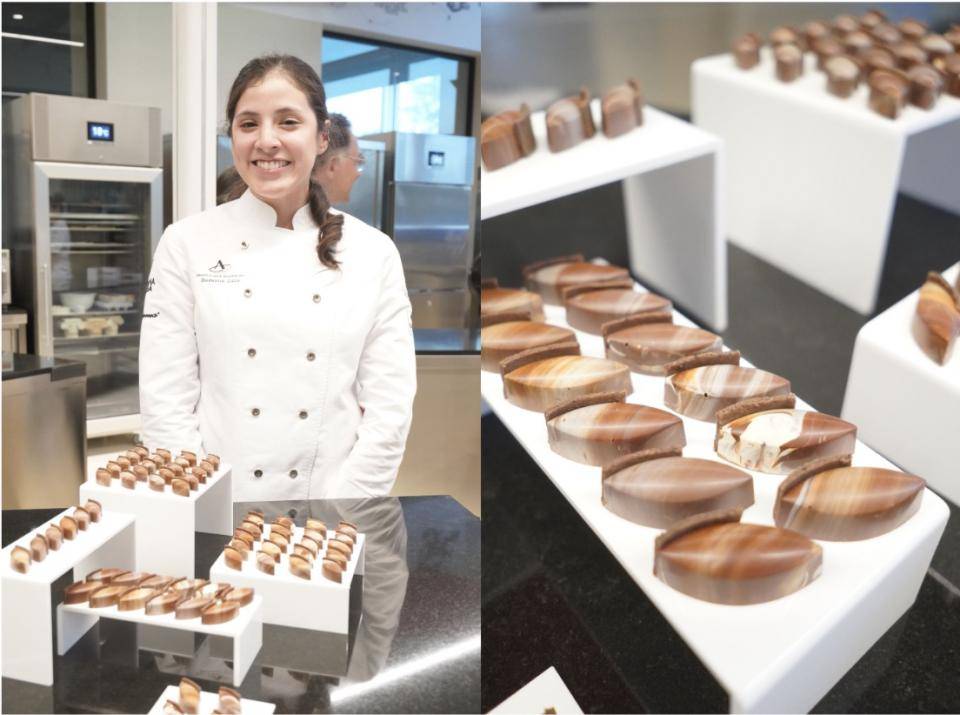 Chef Philippe Marand's Honey, Lemon, and Yogurt Bonbons
Head Chef of host Chocolate Academy™ Center in Athens, Philippe Marand treated guests to a bonbon filled with the flavors of Greece. His milk chocolate enrobed bonbons featured honey, lemon, and yogurt.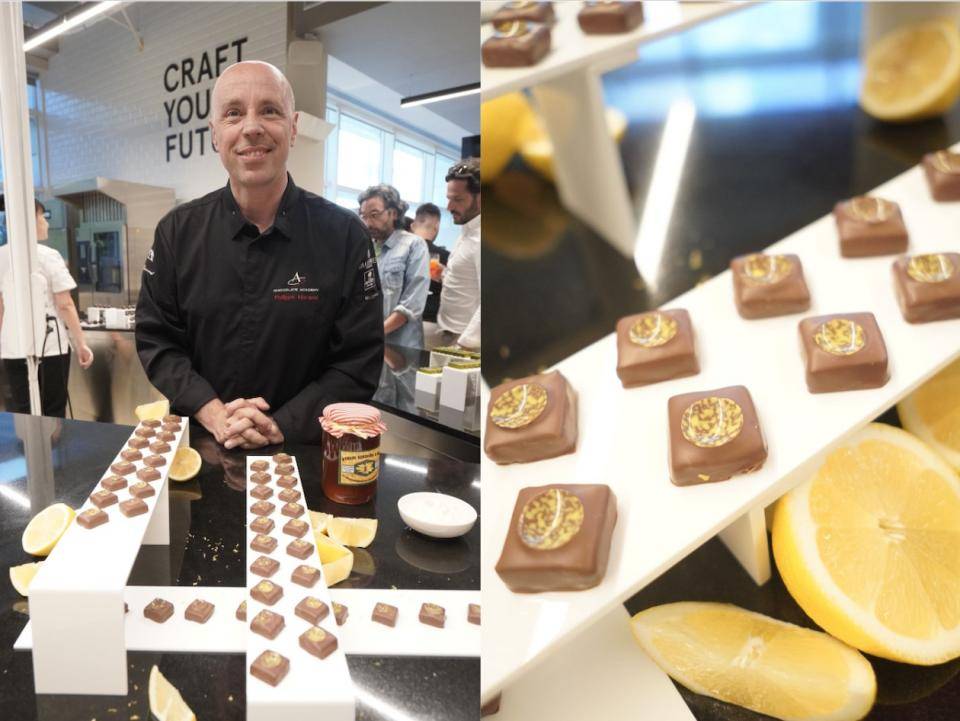 Chef Yesim Erol's Olive Oil Ganache Bonbons
Chef Yesim Erol offered guests modern bonbons which gave a nod to traditional flavors. Her contribution to the evening's festivities featured olive oil ganache and an olive oil-feta crunch.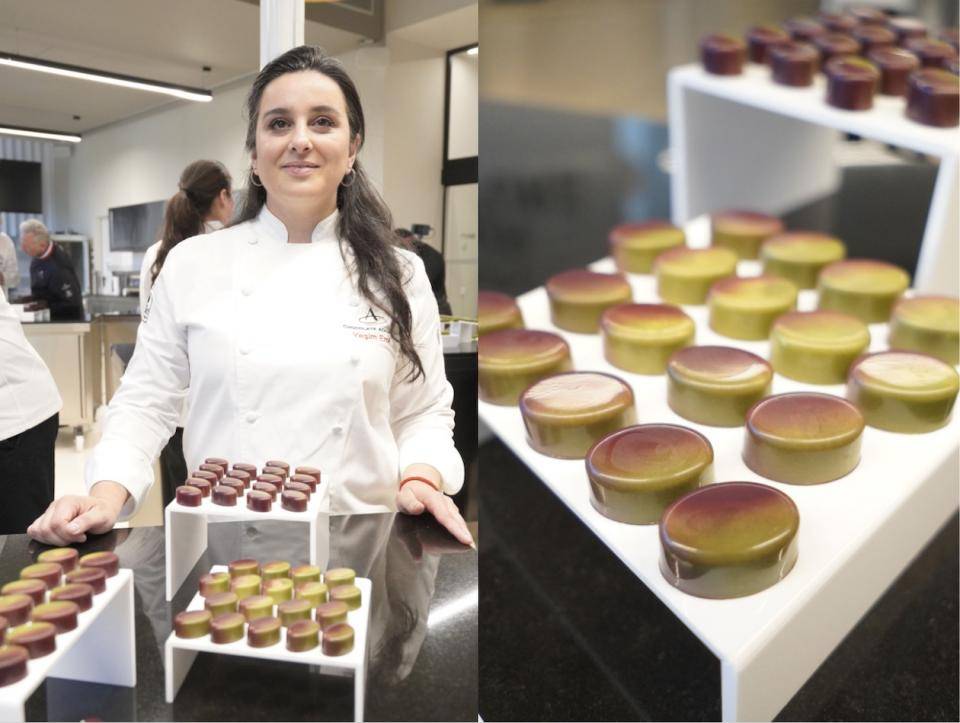 Chef Dimitri Fayard's Pommes Tatin Bonbon
Sleek and stylish bonbons from Chef Dimitri Fayard presented tasters with an upscale experience of the nostalgic American favorite apple pie. His bonbon comprised layers of pommes tatin, Zephyr caramel ganache, and caramel apple gelee.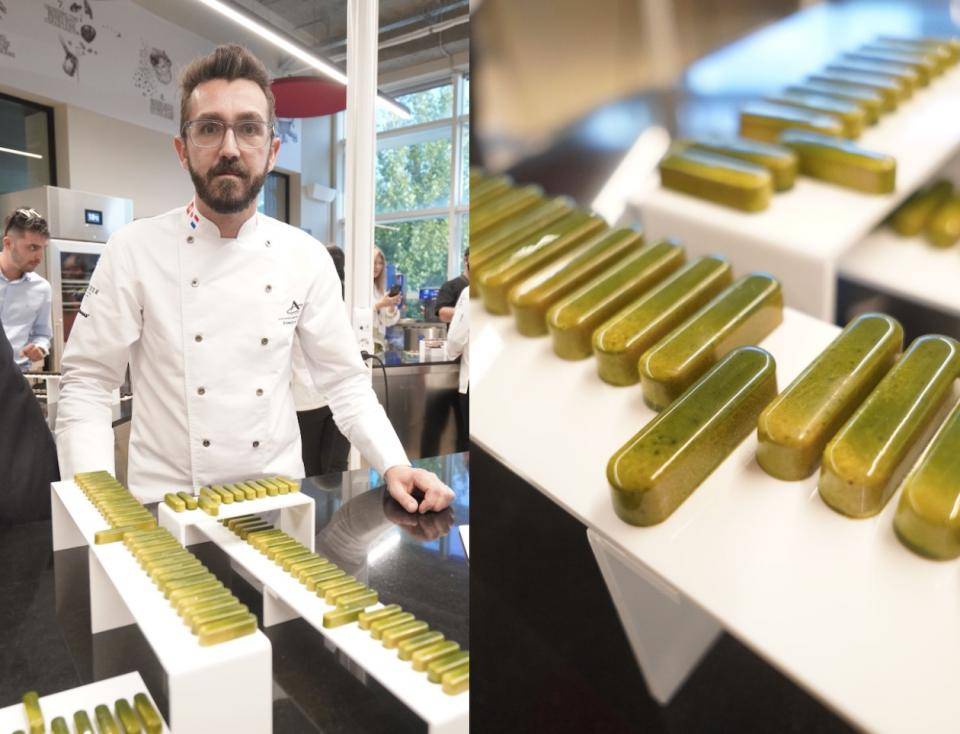 Chef Alan Espinoza's Banana, Passion Fruit, and Coffee Bonbons
Chef Alan Espinoza is well-known for bringing the sunshine of his home country wherever he goes with his warm and welcoming demeanor. For the evening's event, he created bonbons that highlighted this sunny feeling. His bonbons included tropical flavors from banana and passion fruit as well as lively notes from Mexican coffee.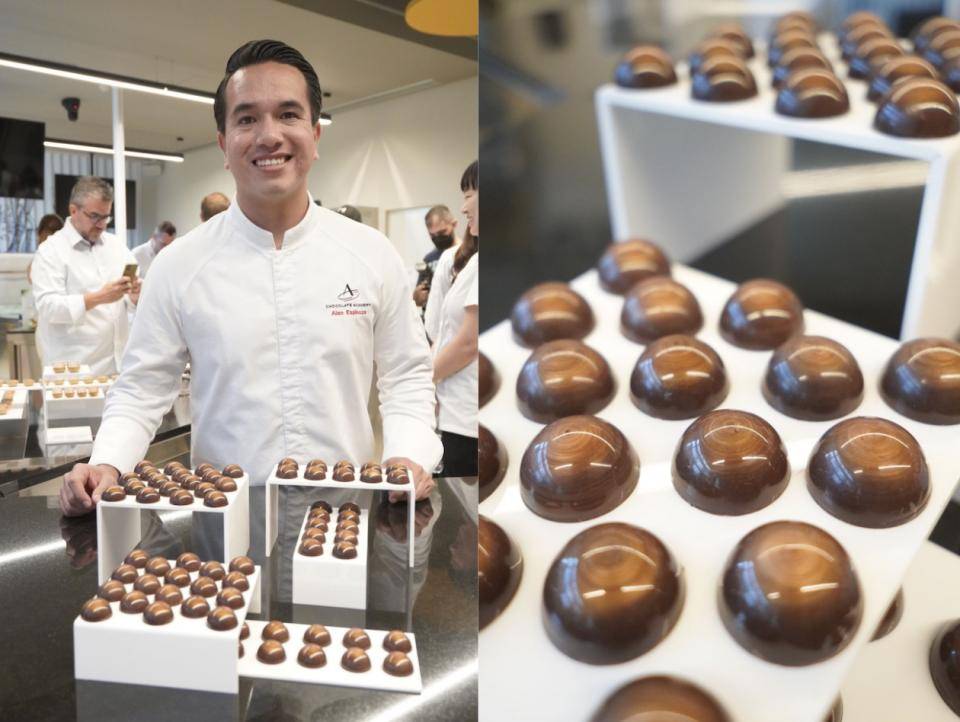 Frank Haasnoot presents The Rose
Chef Frank Haasnoot used Mona Lisa® Decorations revolutionary 3-D Studio to create a shareable rose dessert that Wowed the evening's guests.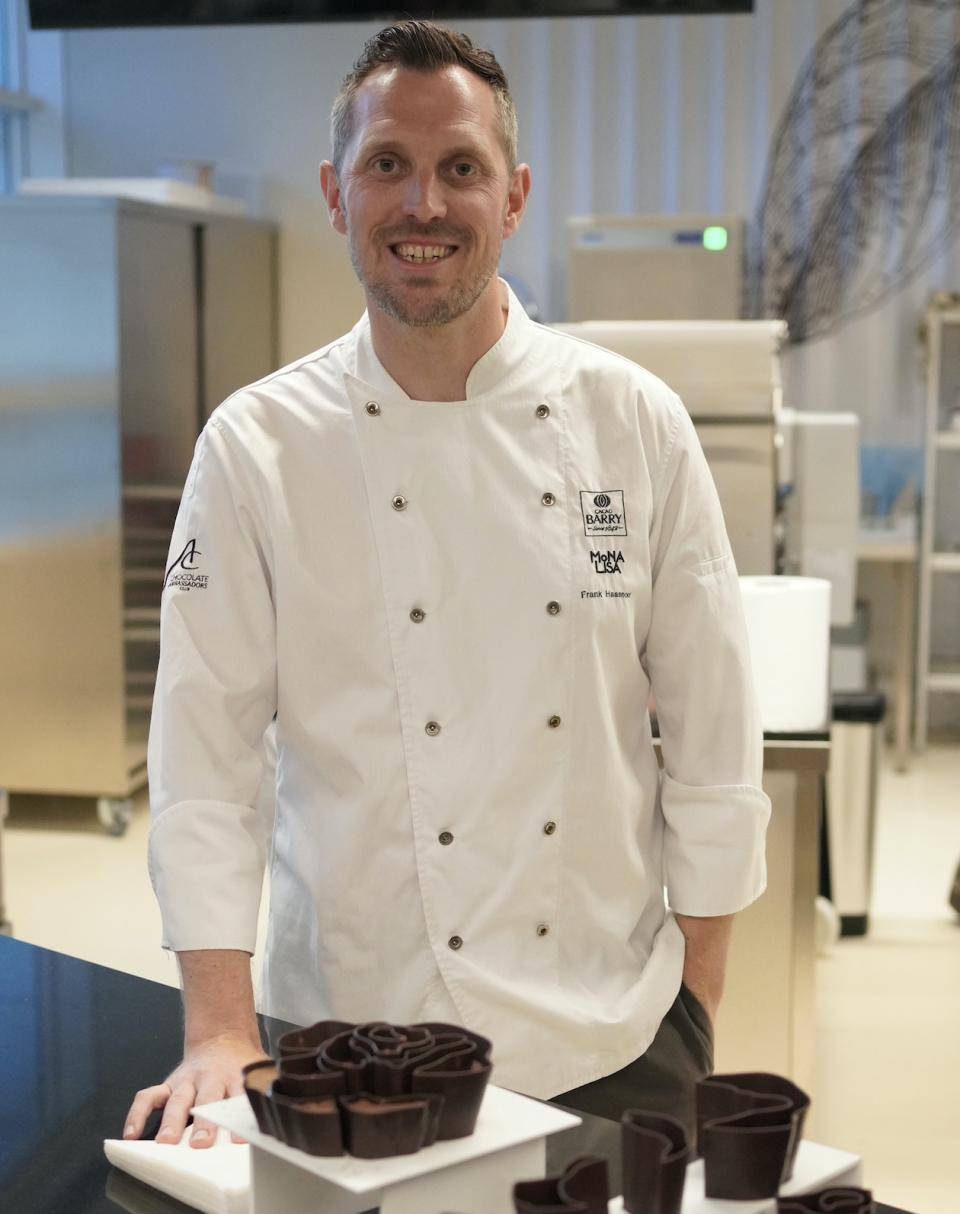 Chef Spyros Pediaditakis Delighted Guests with an Assortment of Pastries
One of the busiest chefs of the evening might have been Chocolate Ambassador Spyros Pediaditakis who provided an assortment of pastries for guests to try.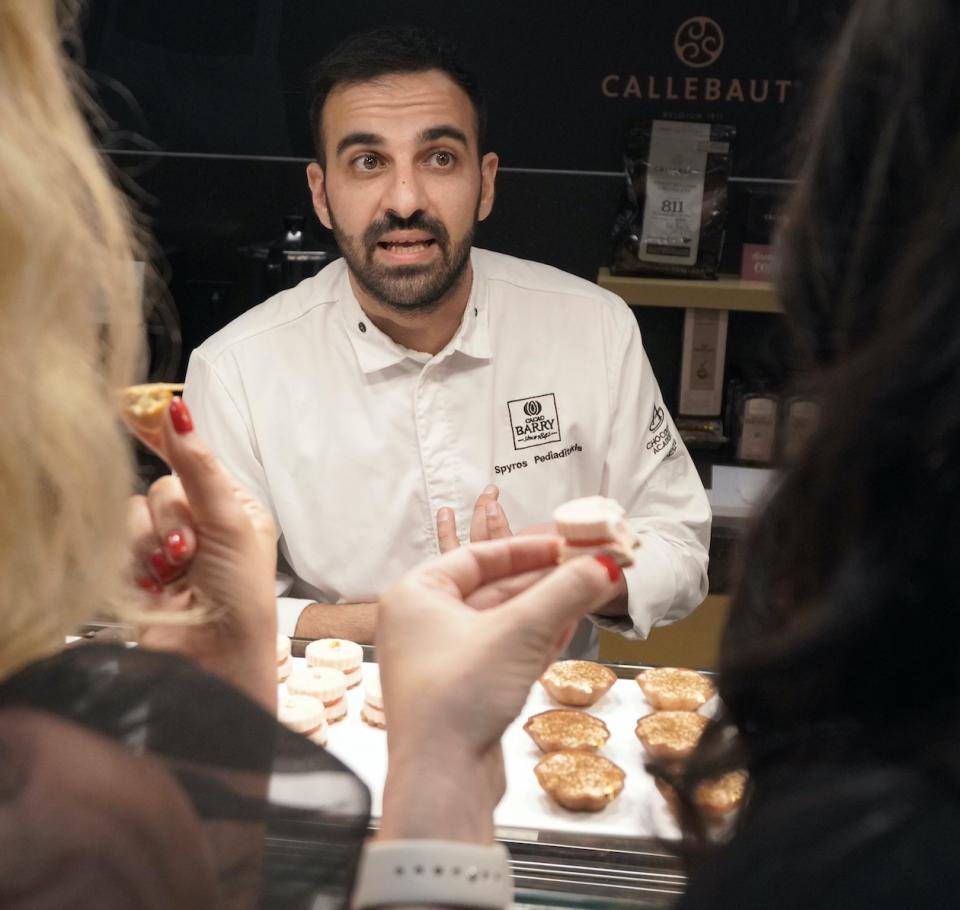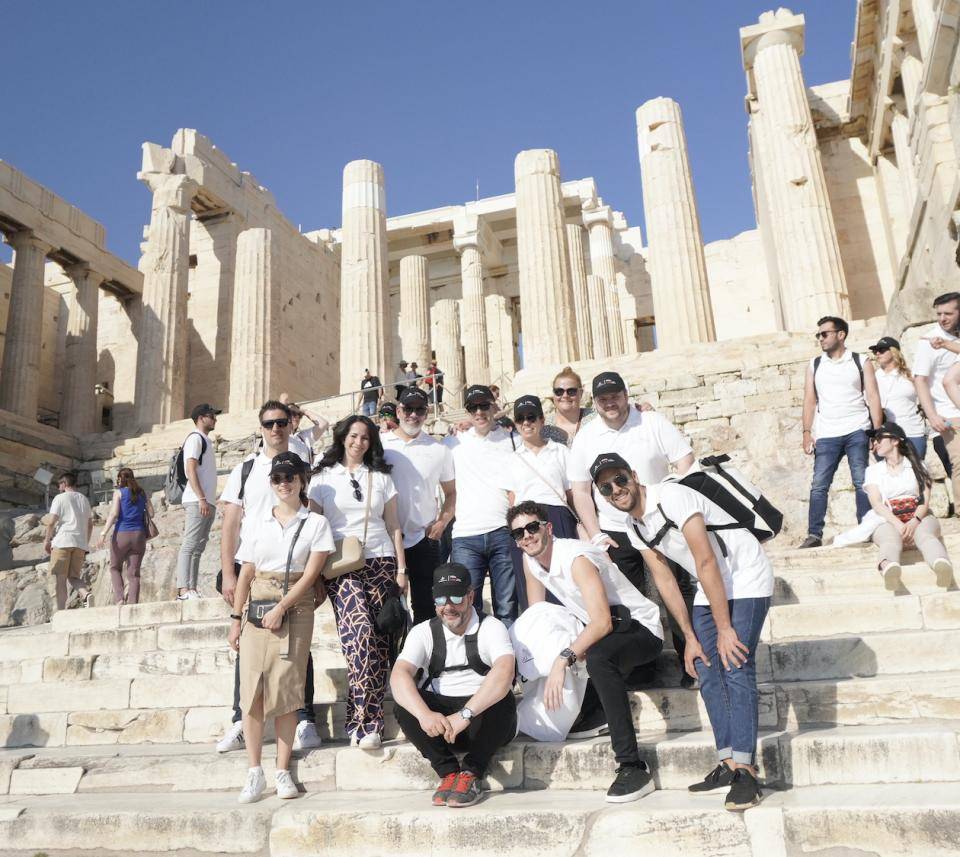 Day 2: Exploring the City
On Day 2, after a morning of informative sessions and a chocolate tasting, Chefs spent the afternoon exploring Athens and its bakeries and pastry and gelato shops, learning about the traditional items popular in the area as well as new items trending among modern customers in the region. The day was capped by a tour of the Acropolis. This famous landmark provided Chefs with not only historical and cultural context, but the classic beauty of the buildings and temple can only inspire future pastry and chocolate creations!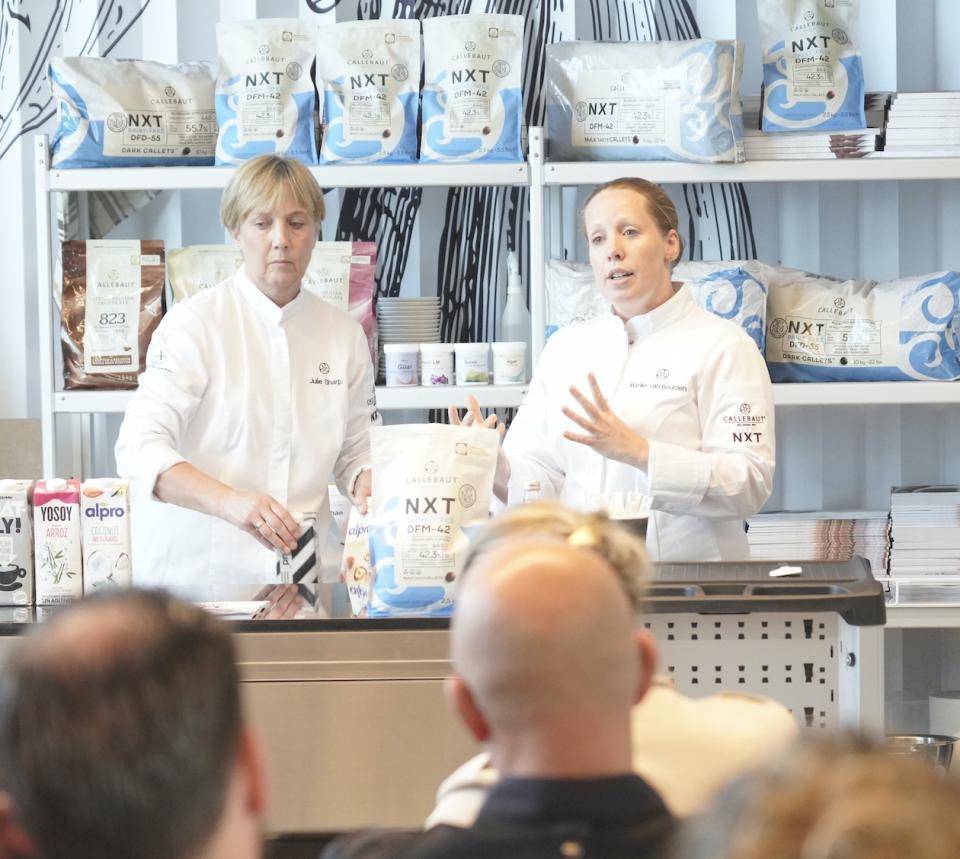 Days 3 & 4: Exploring, Training, and Tasting!
On days 3 & 4, Chocolate Academy™ Chefs divided and conquered, splitting up into two groups, with each group spending one day learning about Cacao Barry Or Noir and sustainability at Pyrgos Vasilissis and one day at host Chocolate Academy™ Center, Athens, engaging in training on Callebaut NXT with Chef Marike Van Beurden, as well as additional sessions on coatings, fillings, and Cacao Barry cocoa powders. Chef Frank Haasnoot then created a dessert especially for the session using Mona Lisa decorations.