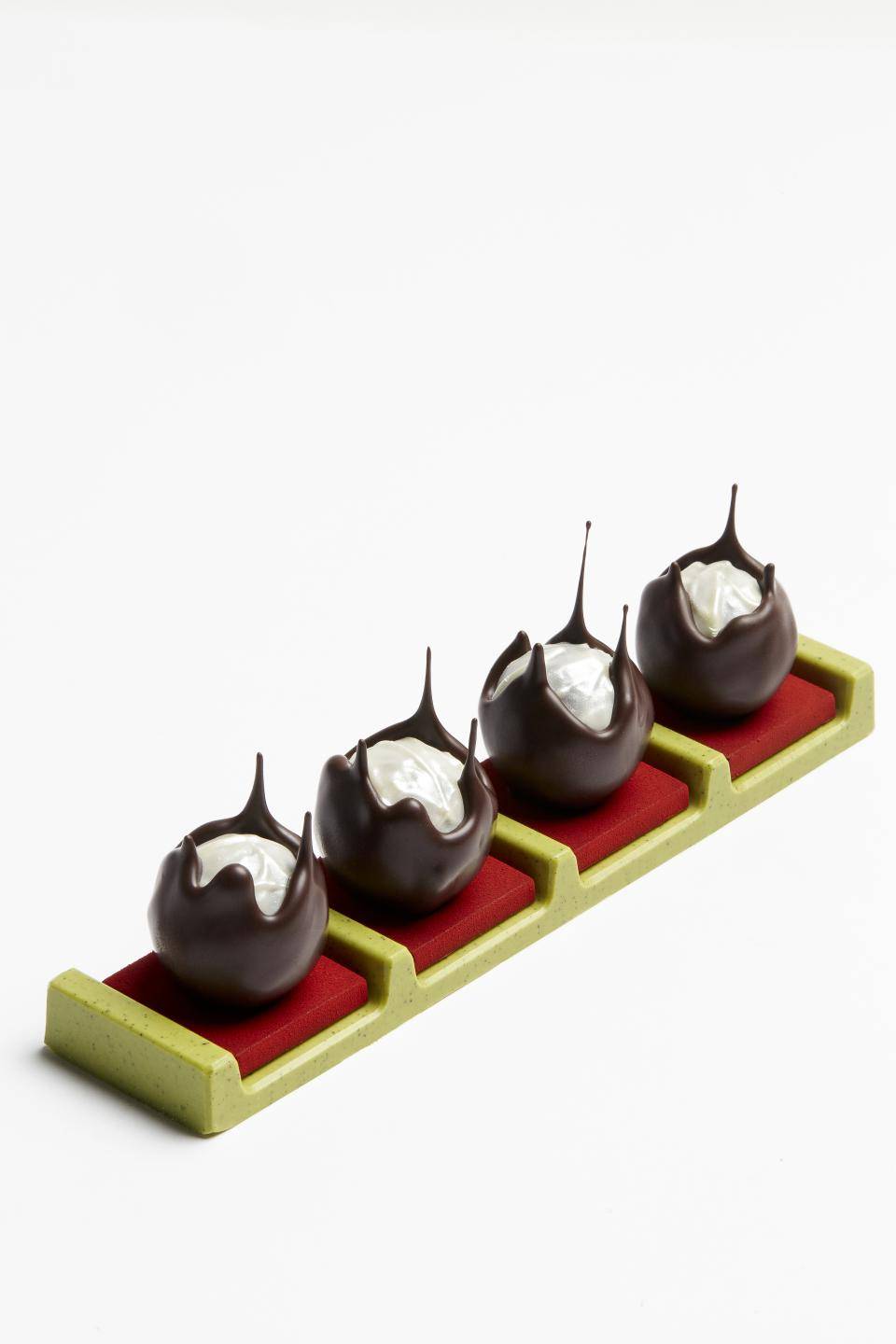 Location:

Date:

Mar 13 2023 - Mar 14 2023

Primary course language:

English
In this advanced hands-on course for professional chefs, Chef Philippe will teach you how to create, control and maintain the best crystallization result within different crystallization techniques.
Single and double molded bonbons,  enrobing and panning process using machinery, will be shown, based on fat and water-based fillings.
Various coloring techniques, including spray techniques, will be demonstrated and explained to obtain the best final result.
Chef Philippe will also cover some explanations about troubleshooting and an introduction to shelf-life.
This course is dedicated to professional chefs who have a good knowledge with the basics skills.
Workshop hours (approximatively): 09:00 am-12.00, 01.00 pm-5:00 pm
Lunch break: 12.00-13.00
Be in the know!
Click to download our practical information booklet →
General Class Information
Class size is from 8 to 12 people.
Class is from 8:00 am to 5:00 pm- You will receive an email confirmation prior to course date.
Breaksfast , Lunch & apron will be provided.
You must attend the full course in order to receive your certificate.
Tuiton Fees Include
Course Recipe Booklet
Breakfast & Lunch (should you have any allergies or food restrictions, please advise us)
Apron & kitchen tools
Upon registration you will receive an email regading course details to ensure you have enrolled in the correct Master Class based on your level of chocolate (or pastry) knowledge.
In the event of a cancellation by the Academy, we will refund only the amount of the course but, not the travel or the accommodation (see below the cancellation policy).
DRESS CODE
The CHOCOLATE ACADEMY™ center will provide an apron and hair net.
You must bring your own chef coat. Pants (jeans or solid color wear).
Socks and closed shoes are required to enter in the kitchen-lab.
CANCELLATION POLICY
Cancel less than 15 days and you will not receive a credit or any form of refund.
Cancel between 15-45 days and you will receive a credit voucher of 50% towards a future class.
Cancel before 45 days and you will receive a full credit voucher of 100% towards a future class.
TRANSPORTATION
Airport: Montreal Trudeau
Parking: There is a free parking lot behind the building.
Bus/Subway - plan your trip here: https://www.stm.info/en
Until August, the online payment system is unavailable. Please contact us for payment.

Join the Community
Get unlimitted free access to tutorials and practical resources for artisans & Chefs