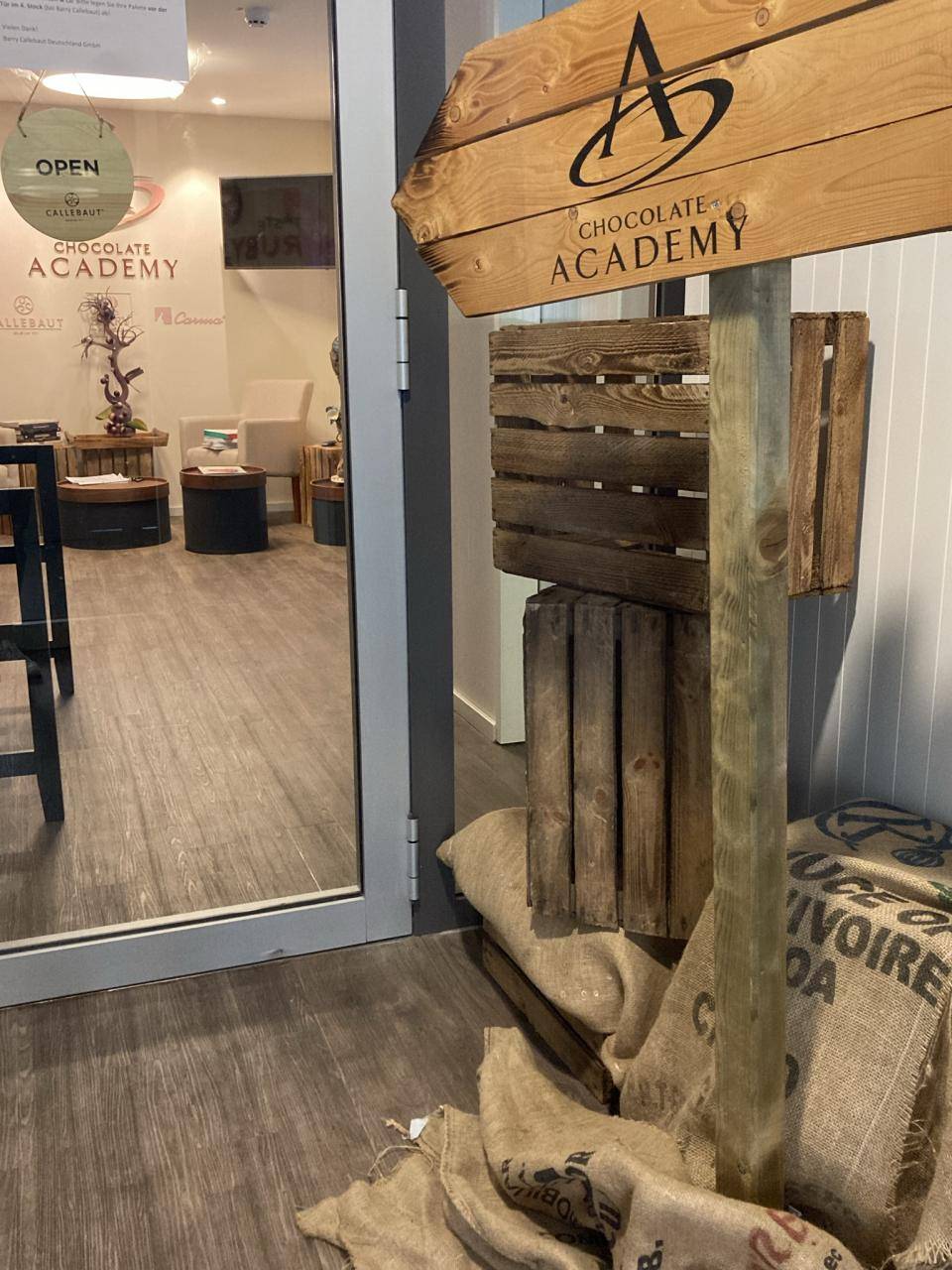 Discover the many processing techniques in dealing with chocolate. Experience a motivating course atmosphere. 
Learn the necessary know-how and develop bit by bit into a chocolate expert.
In short, make your chocolate dreams come true at the Chocolate Academy™ Center in Cologne!
In 2015, we opened the unique competence center for the artisanal processing of chocolate in the heart of Cologne: Advanced training courses teach the small and big secrets of chocolate application. Beginners can learn the basics of pre-crystallization as well as experienced users can expand their knowledge in highly specialized courses on showpieces or desserts. Customers from the bakery and confectionery sectors are targeted just as much as patissiers and chefs.
The Chocolate Academy™ Center is supported by the internationally awarded ambassadors of our gourmet brands. Top confectioners such as Steffen Blunck and Matthias Ludwigs or the top chocolatier Lothar Buss, who is in demand worldwide, teach at the competence center. The head of the Chocolate Academy Cologne, Antonia Majunke, also offers some of the chocolate courses at the Academy herself.
Since 2020, the digital teaching offering in Cologne has also increased significantly: Be part of our livestreams or watch their recording!
Chocolate Academy Köln YouTube Kanal
Lisa Kinner

Chocolate Academy Assist
Im Mediapark 8a
3. Etage
50670 Köln
Germany
Telephone

+49 221 2065 42 99
Arrival, parking and the way to the Chocolate Academy Center
The Chocolate Academy Center has the following address:
Chocolate Academy Center
Barry Callebaut Germany GmbH
Im Mediapark 8a
50670 Cologne
3rd floor
This means that the Center is centrally located in Cologne's city centre and has excellent transport connections. The 154 m high KölnTurm will guide you to the Chocolate AcademyTM Center from afar. 
By public transport:
If you are travelling by public transport, use the following stops: Hansaring, Hauptbahnhof, Hans-Böckler-Platz/Bahnhof West or the Christophstrasse/Mediapark stop.
From these stops you can reach the Chocolate Academy Center by a short walk. 
By car:
Please enter the following address in your navigation system:
Am Klümpchenshof 2, 50670 Cologne.
And then turn into the underground car park from Maybachstraße.
Parking:
There is an underground car park (PZ) under our Academy, where up to 2,500 public parking spaces are available. You can enter via the street: Am Kümpchenshof or, if you are coming from the A57 or via Innere Kanalstraße, on Erftstraße directly behind the railway subway. Just follow the signs to PZ (Parkhaus Zentral).
You can find more information at:
www.apcoa.de/parken-in/koeln/mediapark.html
Once you have parked in the underground car park, you can easily use the staircases leading to the central forecourt. You can reach the entrance to building 8a via the forecourt.