Ingredients
: Chocolate curl
Preparation
: Chocolate curl
Place the strip of acetate onto the plastic board. Pipe a small amount of chocolate on top and then smooth with a palette knife. Pull the comb scraper form left to right; allow the chocolate to become touch dry and the twist. Place into a half pipe and allow to set in the fridge.
Cut a stripe of acetate 10 cm wide - 20 cm long. Place onto the plastic board and then smooth a thin layer of pre crystalised Callebaut chocolate on top. Pull the comb scraper through it. Allow to set untill touch dry, cut in half and the place one square on top of the other going in opposite directions to form a grid. Allow this to set in the fridge and then release from the plastic and use. You can cut cirlces out of this by heating up a metal cutter and gentle pressing on to the grid.
Place the chocolate flakes into a container, add a little bit of creative powder on top and shake to cover. Pour the chocolate flakes onto tray. Fill a paper piping bag with pre crystallised chocolate and them pipe shapes on top of the flakes. Allow to set and then remove form the tray.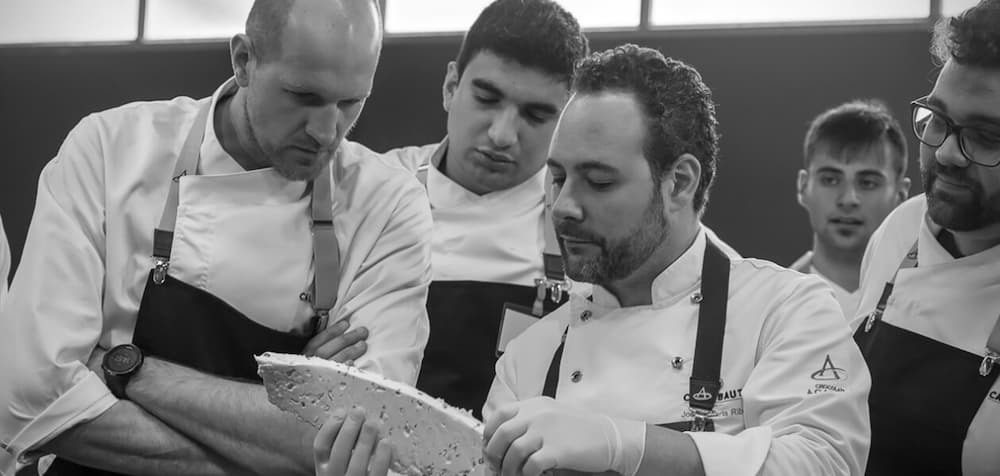 Need support with your chocolate confections?
Find troubleshooting guides & tutorials
Chat live with an advisor chef and find the right solution to your challenges