Ingredients
: Dacquoise: (1 trays)
Preparation
: Dacquoise: (1 trays)
Make a French meringue by whipping the egg whites and incorporating the caster sugar slowly. Once fluffy, add the mix of hazelnut powder and icing sugar by folding it in the mix. Spread in one baking tray and cook in a fan over at 180C for about 10-12 minutes. As soon as it comes out of the oven place the frozen 'crunchy base' sheet on top till its melted and stuck together and freeze, ready for cutting.
Ingredients
: Crunchy base: (1 tray)
Preparation
: Crunchy base: (1 tray)
Melt slowly the milk chocolate in the microwave. In the meantime put the Feuilletine, praline and praline grains in the KitchenAid with a paddle and mix slowly, add the melted chocolate and mix it all until combined. Spread it between baking paper to the size of the baking tray and freeze.
Once frozen remove it from the baking paper and place it on top of the warm Dacquoise. Freeze it all together and use a round cutter to cut it in a size smaller than the mousse ring we will use on the next recipe
Mousse: (10 moulds) 50gr/portion
Ingredients
: Mousse: (10 moulds) 50gr/portion
Preparation
: Mousse: (10 moulds) 50gr/portion
Make a ganache by boiling the trimoline and milk, pour onto the Zephyr Caramel and hydrated gelatine sheets and mix it together.
In the meantime, whip the cream until it has a soft whipped texture and incorporate it with the chocolate at 30C. Pour 50gr of mousse on an 8cm ring and place the sponge and praline sheet on top. Freeze before glazing
Ingredients
: Caramel glaze
Preparation
: Caramel glaze
Bring the water, sugar, glucose and condensed milk to boil, pour on the Zephyr coverture and hydrated gelatine and mix with a hand blender without incorporating any air. Let it cool overnight and melt the portion you need, cool down to 32 degreed before glazing the frozen mousse
Ingredients
: Raspberry gel
Preparation
: Raspberry gel
In a bowl mix the agar agar and sugar together. Bring the raspberry puree to 35 degree and sprinkle the sugar and agar mix in while stirring with a whisk. Bring to boil and pour in a container to cool down.
Once cold blitz it in a Robot coupe or Kenwood until fully smooth and place it in a wide container, vac Pac it to extract all the air bubbles and keep it in a piping bag with a small nozzle ready for service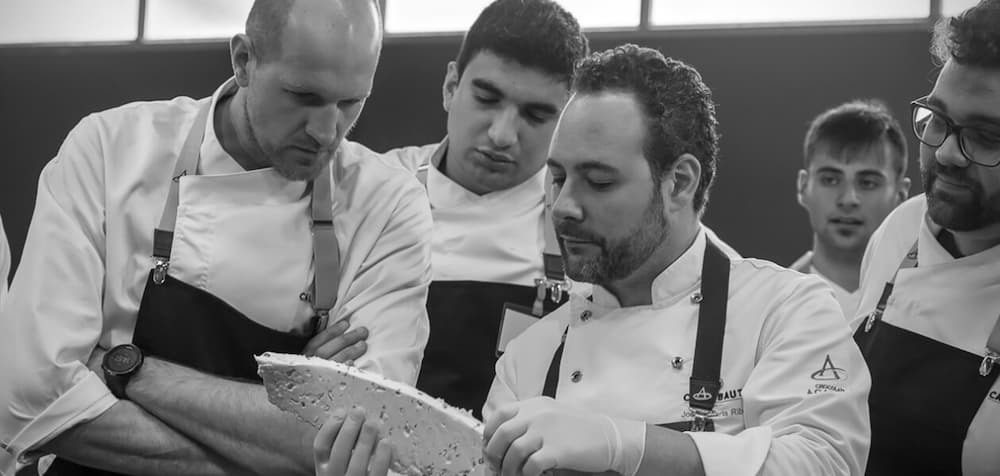 Need support with your chocolate confections?
Find troubleshooting guides & tutorials
Chat live with an advisor chef and find the right solution to your challenges