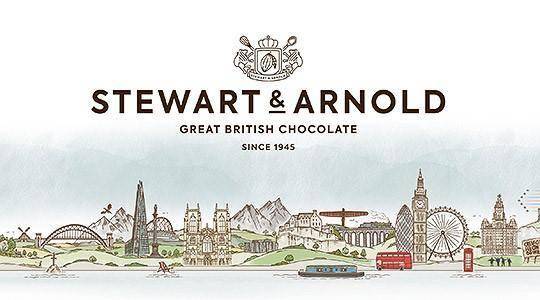 Our Story
Inspired by their vision of great British Chocolate, in 1945 William Stewart (Businessman) and Dr Arnold Spicer (Fellow of Royal Institute of Chemistry) created a Chocolate Factory in the small town of High Wycombe which helped bring joy to the Great British public after WW2.
Over 70 years later, Stewart & Arnold is now produced in the historic market town of Banbury, bordering the Cotswolds and in the heart of the British countryside.
Key points
Specifically tailored to British tastes
Made using the freshest milk from British farms
100% sustainably sourced cocoa
Great for any application
Stewart & Arnold Brand Video
Product Range
Our brand new range of chocolates are specifically tailored to preferred British tastes and brings the best of our tradition and expertise to a modern audience.
Beautifully rounded and smooth with distinct flavours, our Chocolates are easy to use and are suitable in many applications.
The range includes: 
70% Great British dark chocolate  
55% Great British dark chocolate 
35% Great British milk chocolate 
Great British white chocolate 
Great British dark chunks
Great British milk chunks
Great British white chunks
Great British dark chips
Great British milk chips
Great British white chips