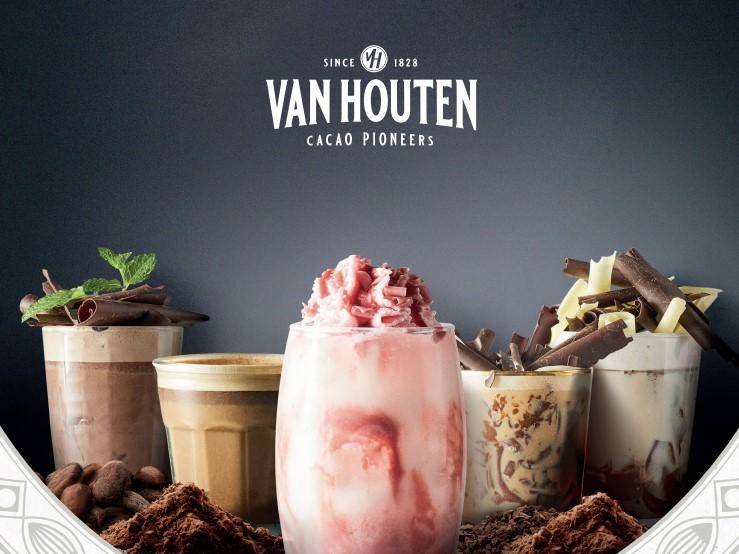 Our story
With an insatiable thirst for the divine, we have both pioneered and set the standard of cocoa-based drinks since our invention of the cocoa press back in 1828. Combining a rich history, commitment to quality and innovative spirit, we constantly help our customers to reach new heights of divine indulgence. Ready to write history together?
More than 190 years of cocoa heritage
For hot and cold drinks
Made from sustainably sourced cocoa (Cocoa Horizon)
Prepare with ease and speed
Excellent solubility
Use the milk of your choice, dairy or plant-based
Endorsed by top chefs and baristas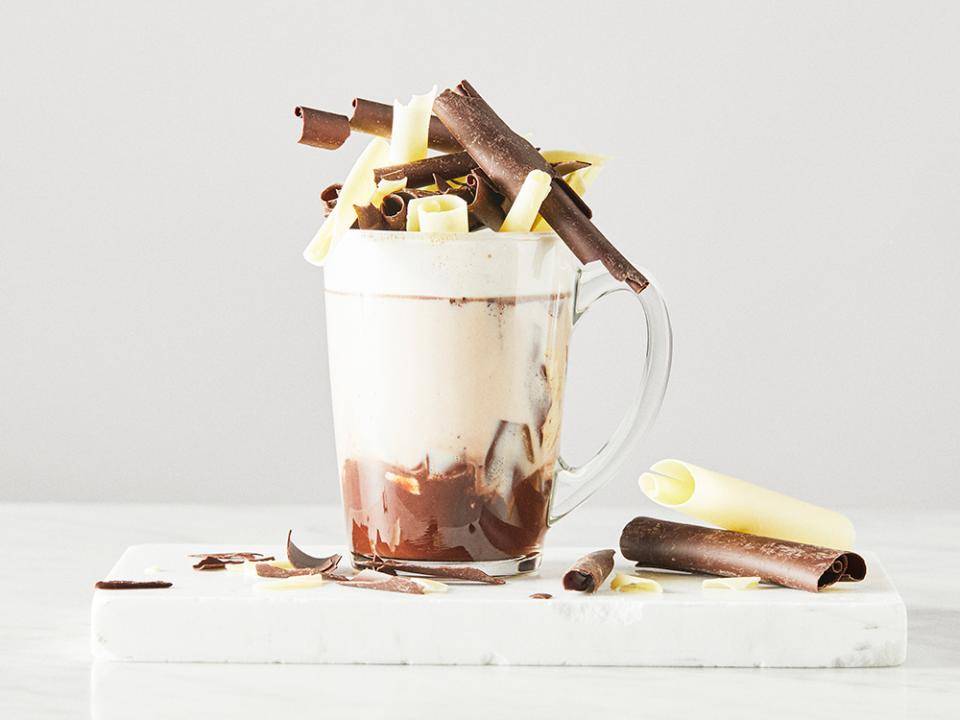 Become a game changer
Van Houten offers a wide variety of ground chocolates and chocolate drink powders for HoReCa. From the new 5 colours of ground chocolate to origin chocolate that also works in table top machines - all designed with excellent functionality and ease in preparation in mind.
The range includes
5 colours of ground chocolate: Milk, Dark, White, Gold and Ruby
Chocolate drink powders: VH2 and VH Passion (that also work in vending machines)
Single origin chocolate drink powder: Santo Domingo (that also works in table top machines with liquid milk)
Explore Van Houten's unique ingredients for chocolate baristas and learn how to use them!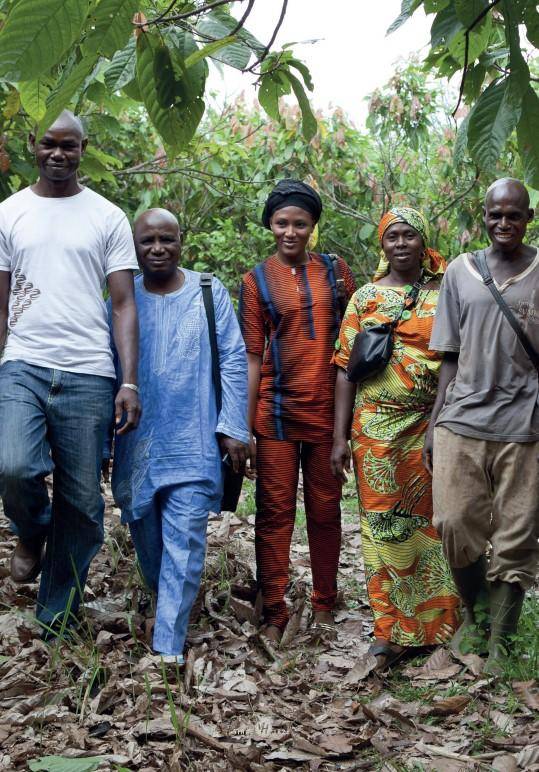 Sustainability tastes better
75% of consumers say that sustainability claims are important when choosing beverages (FMCG Gurus: Hot drinks global report 2022, Feb 2022)

Together with Cocoa Horizons, we are leading the industry toward sustainable cocoa farming practices. The Cocoa Horizons Foundation is an impact-driven program with a vision to promote cocoa farmer prosperity by creating self-sustaining communities that protect nature and children. It is a highly transparent, third-party verified non-profit organization.

Cocoa Horizons aims to deliver better cocoa, through 3 areas:
Productivity: Helping farmers succeed in their everyday work. Helping them grow their business and improve their livelihoods
Communities: We have a zero child labour policy and actively make sure all cocoa farming communities are trained to protect their children
Environment: Harvesting chocolate in a way that gives back to our planet. We are sequestering our carbon emissions while sourcing as much as we can in a sustainable way.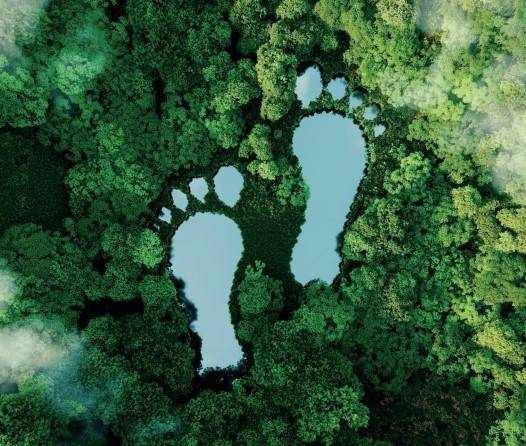 Renewables get customers who come back
The health of the planet is now the top global issue for consumers. Food choices are signals of entire lifestyles as personal values intertwine with purchasing decisions (Innova Top Trends 2022 Chocolate)

That is why all our chocolate products are produced using renewable energy. This doesn't only have a positive effect on our carbon footprint, it has a positive effect on your customer base as well. They are increasingly looking to reduce their impact on the environment. With our sustainably processed and produced chocolate you can invite them into a new world of chocolate drinks.
More information about the history of Van Houten.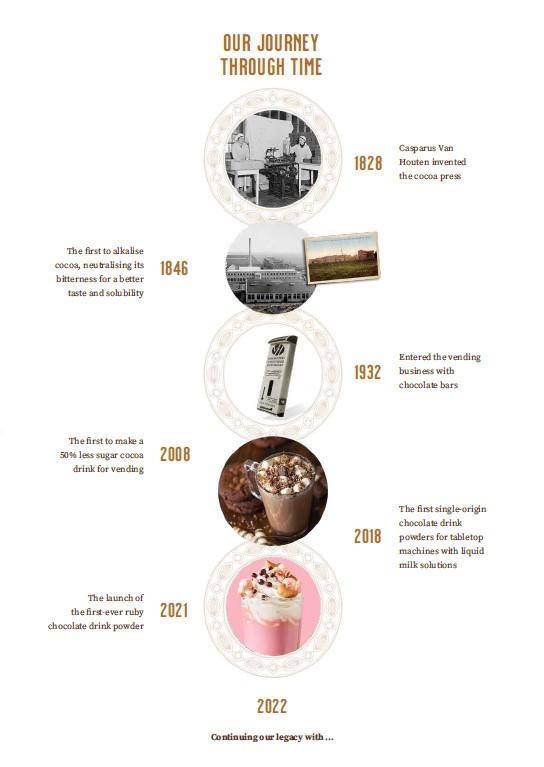 Pioneers at heart since 1828
In 1828, our founder, Casparus Van Houten, invented the hydraulic cocoa press to separate cocoa butter from the liquor and make a lighter and more nutritious cocoa powder. And he didn't stop there. His thirst to deliver delicious cocoa to everyone resulted in a whole new industry. Under his watchful eye, chocolate drinks first saw the light of day.

His son Coenraad inherited his passion for cocoa and invented the renowned Dutching process, alkalising cocoa for a better taste and solubility. This technique is still used around the world today. The improved solubility, better colour and tastier flavour of cocoa, once and for all changed people's mind. Chocolate drinks were here to stay.
A legacy of firsts
Van Houten's pioneering attitude led to more than one international breakthrough. The cocoa company introduced tin cans in 1865, again radically changing the industry. Taste could now be preserved longer, opening the world to a global expansion.

By the end of the 19th century, you could get Van Houten in the United Kingdom, United States, Germany and France. It quickly became known as the brand of high-quality cocoa powders.

From 1889 on, you could even find Van Houten ads on public transport throughout Europe and the United.